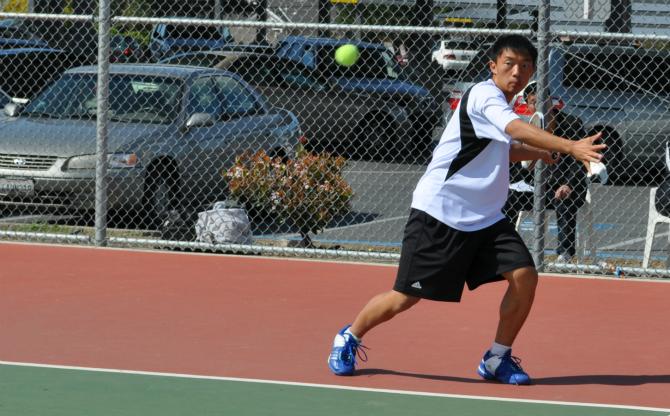 "Clutch." That's how varsity one singles senior Nathan Law described the performance of the MVHS boys tennis team in their April 4 victory against Saratoga High School.
"It was great because we were down 3-1 and we came back," Law said. "We've been having a habit of doing that a lot, but it's good. It means that we're clutch now."
In their closest match of the season, the Matadors (14-1, 9-0) extended their undefeated league streak by turning around a 1-3 deficit to a narrow 4-3 win through three three-set singles victories.
" I was disappointed in our doubles' aggressiveness, but our singles came through," head coach Bruce Becker said. "This match was amazing, our toughest win in a long time."
The tennis team was off to a shaky start, with almost all of the seven matches beginning with a Saratoga lead. Senior Srujan Kalidindi — filling in for varsity three singles freshman Jonathan Li — lost 2-6, 2-6, and the Matadors' chances of victory slipped even further as number one doubles Sudev Chaluvadi and Daniel Lam mirrored Kalidindi's scores, going 2-6, 2-6 as well. Despite a win by number three doubles juniors Jonathan Tsai and Leonard Ting, number two doubles sophomores Saxon Day and Matt Cheung lost their match despite forcing a tie-breaker in the second set 2-6, 6-7 (5-7).
Even the victories by Law, sophomore Edward Ang and sophomore Jeremy Liu — number one, two and four singles, respectively — were extremely close.
"Nathan — that guy has close matches all the time. We knew we were in trouble," Becker said, "[and] Jeremy Liu, our number 4 [singles] was down 5-3 in the second, come back to win the tiebreak, he has a sprained wrist. He and Nathan are big wins."
Featured Match #1: MVHS senior Nathan Law defeats Saratoga sophomore Kial Kaiser: 7-5, 1-6, 6-3
Law had to contend with a powerful opponent in Kaiser, ranked fourth in California and 12th in the nation for his age group according to tennisrecruiting.net. Despite Kaiser's flashes of brilliance from his aces and forehand winners in the second set, he constantly committed unforced errors and missed first serves, which affected his game all afternoon and allowed Law to capitalize and take the three-set victory.
"I just got lucky at the times when I got it back and he just kept ripping and ripping and the moment I was almost about to break down, he missed it," Law said.
Law jumped to a quick 2-0 lead in the first set while Kaiser yelled at himself, expressing his frustration from hitting many shots into the net. Even with the mistakes, Kaiser continued to force Law back with his forehand before Law fell to 3-4 and then 4-5. However, Law managed to remain resilient with his returns until Kaiser began to miss his shots to take the first set 7-5.
In the second set, Kaiser regained his composure, cutting down on his errors. He scored two aces against Law to take a 3-1 lead, while Law committed six unforced errors and a double fault thereafter to lose the set 1-6.
"I hoped that I would just stay consistent, just force him to continue missing, but that didn't really happen," Law said. "He started making a lot more shots and then I just couldn't keep it up in the second set."
Law traded games with Kaiser in the third set, but he earned a key break point to hold a slim 4-3 lead. In the next game, he suddenly started to attack the net, earning two net points as he extended the lead to 5-3.
"When you're in the third set, it's going to be like a dogfight," said Law. "So all I wanted to do was try to be more aggressive in the final game. He couldn't just put the ball back in play, he'd have to think about me going to the net, and I guess that got to him and that's why he missed some more."
Now with only one more game to win, Law shortly reached his first match point 40-30, but he hit the ball out on a long rally. Fortunately for Law, Kaiser committed another unforced error to give Law the advantage. With his second match point, Law approached the net, forcing Kaiser to hit a lob shot that flew just beyond the baseline.
Both teams were shocked after watching the ball go out, but Ang quickly ran onto the court to congratulate Law — a tough way to lose for Kaiser, but a gratifying way for Law to take away an improbable win.
"To be honest, I didn't know if it was going to be in or out until it just hit the red, all red, so then I knew it was out," said Law. "Thank God the match was over."
Featured Match #2: MVHS sophomore Edward Ang defeats Saratoga freshman Neel Bedekar: 3-6, 6-1, 6-3
Ang gave up a break to Bedekar in the very first game of the match, and Ang could not recover from a slow start of missed shots and serves before dropping the set 3-6. However, he soon gained confidence in the second set, jumping out to a 5-0 lead by limiting the number of long rallies that gave Bedekar the chance to set up his shots.
"In the first set, I was just trying too hard," Ang said. "I think I was trying to hit the ball too close to the line, therefore I missed, but in the second set, I just changed my strategy. My main focus was just to get the ball in instead of hitting winners and it seemed to work."
Bedekar came back to outplay Ang early in the third set by forcing Ang to run around returning well-placed shots on each baseline. Bedekar broke serve to tie at 1-1 and then hit two forehand winners to hold serve in the next game for a 2-1 lead. However, Ang fought back with a 5-3 lead, hitting comfortably with his backhand and forehand for winners out of Bedekar's reach.
Bedekar pulled ahead in the next game 40-15, but he hit two shots out to allow Ang to come back with a deuce. Ang then forced Bedekar to take more challenging shots, one that flew wide to the right and then another beyond the baseline to clinch four consecutive points and the match for Ang.
"He made me move a lot, he didn't miss much balls, and he made me earn every point," Ang said. "[But] I believe I was mentally strong. I didn't let up. I just kept going."
Featured Match #3: MVHS junior Jeremy Liu defeats Saratoga senior Henry Shen: 4-6, 7-5, 6-0
Junior Jeremy Liu's victory over Saratoga senior Henry Shen was one of the most unexpected wins of the day. In the first set, Shen served aggressively and hooked the ball consistently to gain a 0-3 lead. Liu hit strong shots, but a sprained wrist and a tough opponent resulted in him trailing by a point throughout the first set.
Although he eventually brought the score up to 4-5, Liu was worn out, double faulting and succumbing to Shen's cross-court play. In the final point of the set, Liu sprinted to volley back a light shot, but was unable to return a deep cross-court smash by Shen.
In the second set, it seemed as if Liu was slipping even further as Shen continued his aggressive play, spinning the ball. At the lowest point of the set, Liu was down 2-5. However, by taking the game point-by-point and slicing continuously, Liu was able to stave off Shen's advance. When Liu pulled up the score to 4-5, Shen shouted to himself, "How could you let him catch up?" Liu's steady pushing eventually led to a victory of 7-5 in the second set.
When the third set began, the tide had turned. Liu had eased into a consistent rhythm, and his pushing took advantage of Shen's frustration and unforced errors. Ultimately, Liu's consistent defense prevented Shen from earning a single point, and Liu went 6-0 in the final set, winning the match 2-1.