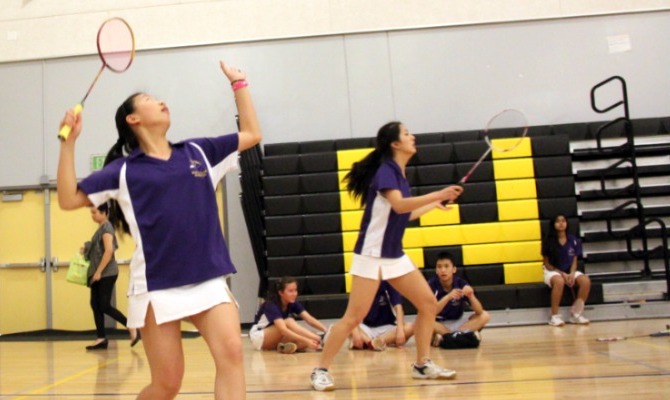 On Thursday, Mar. 22, MVHS badminton decisively defeated Wilcox High School. The Matadors began with a strong start and only gained momentum as the games progressed. The Chargers were beaten by a score of 28-2 for varsity and 14-1 for junior varsity.
Varsity one Girls Doubles: MVHS sophomore Nancy Chang and senior Rachel Chiou against sophomore Claudia Li and junior Jessica Soong (12-15, 2-15)
Chang and Chiou began the first game with a three-point lead for the majority of the game. However, upon reaching the halfway point, Li and Soong became more aggressive, pushing Chang and Chiou back and smashing consistently until the score became tied at 10-10. The smashes, which became increasingly frequent and accurate, led Wilcox to a 15-12 win over Chang and Chiou.
Li and Soong secured an early lead in the second game, only allowing Chang and Chiou to score a point after they had secured seven. The highlight of the round was a strong rally for MVHS which resulted in a second point, but overall, Chang and Chiou lacked coordination and were constantly pushed back, resulting in the defensive game ending in a 2-15 loss for the Matadors and a match score of 0-2. Despite this, Chang walked away with a few pointers for future reference.
"[I learned] not to get nervous when we're losing, otherwise we'll lose more," Chang said. "Every school's going to be different…but you can't always blame it on something else for how you're playing. You have to ignore that and just play the best you can."
Varisty two Mixed Doubles: MVHS juniors Lena Chen and Eric Lin against sophomores Thea Lacsamana and Jordan Valentino (15-0, 15-8)
Chen and Lin crushed Lacsamana and Valentino in a smooth and quick first match. The first part of the game progressed quickly due to missed shots by the Wilcox team. Well-aimed smashes by Chen and Lin cut all potential rallies short and allowed them an unparalleled victory of 15-0.
"I was just trying not to mess up and trying to run the guy around the court so that he'd be tired out. Personally I feel like I could have made better shots, but our team did pretty well. [Chen] did exceptionally well, all of her smashes went in," Lin said.
After the first round, Lacsamana and Valentino fought back at the start of the second game, tying the score with Chen and Lin for the first three points. Though Chen and Lin pulled ahead, Lacsamana and Valentino quickly covered the gaps with new aggressiveness. Nevertheless, more mistakes cost Wilcox the second game and led to MVHS' decisive 15-8 win.