Golf: Top three seeds shoot two over par for first win of season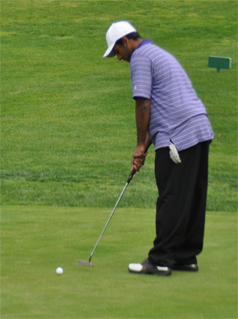 The varsity boys golf team celebrated its first win of the season on March 15 against Lynbrook High School at Deep Cliff Golf Course, setting their league record at 1-3.

Strong scoring from all members of the team led to MVHS's win. At the end of the match, first seed freshman Lucas Harjono, second seed sophomore Bryan Ng, and third seed junior Ryan Khodi were all jokingly rewarded gold stars for tying with the lowest score of 32, only two over par. Fourth seed junior Ahmit Dhingra scored a 38, while fifth seed senior Sujay Yantrapragada received a 36, and sixth seed sophomore Pranav Mayuram shot a 49.

Yet those three best scores did not come without a fight.

"I had a rough start [with a triple bogey on the first hole], but I managed to get back by making a couple birdies," Harjono said. "Overall, I was happy I got my swing back together."

Quickly rebounding at the second hole, his best, he managed to hit his ball to within half a foot from the hole from about 145 yards. After that, it was simply tapping the ball in for the birdie. Harjano later bogeyed the fourth hole, parred the four after that and then finished off with a birdie.

Ng's worst hole came after messing up his first shot by hitting the ball underneath a tree. He was able to fix his problem by hitting a low shot that flew onto the green.

By the end of his round, Ng had parred his first three holes, shot bogeys at holes four and five, and finished off with four more pars.

While both Khodi and Harjono believed putting was what helped them score well, Ng's score suffered due to poor putting.

"That was the only thing that held back my game," Ng said. "I could hit the long shots fine, it was just the short game that got me a lot of strokes."

According to Khodi, the going gets easier from here, as MVHS had only faced the top two teams of the league, Saratoga and Los Gatos High Schools, before this Lynbrook match. He expects the next teams to not be as difficult.

The varsity boys golf team's next game is against Santa Clara High School on March 28 at the Santa Clara Golf and Tennis Club.