Olympic discus gold medalist speaks to track team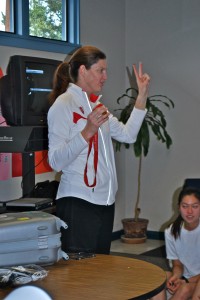 Emma Courtright
March 26, 2012
March 20 was a unique day for the MVHS track team. Instead of starting with practice the team met in the staff lounge at Kennedy Middle School and listened as Stephanie Brown Trafton, the Olympic gold medalist for women's discus in the 2008 Beijing Olympics, spoke to them about her accomplishments and the importance of perseverance.
"I really enjoy giving back to students in general because at some point obviously I was a student myself, and I was a young athlete and I didn't really know where my life was going to go," Trafton said. "But at some point I knew that I wanted to become an Olympian. Somebody planted that seed for me and I wanted to plant that seed for them."
Trafton encouraged the team by describing her Olympic journey. At the age of four, she watched gymnastics in the 1994 Olympics and made it a life goal to wear a leotard for the US team. Though she ended up not becoming a gymnast, Trafton tried many different sports, winning three California state championships in basketball and later getting a basketball scholarship to Cal Poly San Luis Obispo.
Unexpectedly, she tore her ACL and settled with shot put and discus. Initially Trafton thought these events were for the lazy, but later found out that practicing for the two events took just as much effort as any other sports. While training in college, she went to the NCAA championships and got second in discus by four inches.
Trafton continued training and went to the Olympic trials. She faced many hurdles while attempting to achieve her childhood dream. During a meet in 2007, she took supplements and weight lifted prior to the competition, which caused her to perform poorly and according to Trafton, made her the laughingstock of the competition. Yet Trafton articulated that she didn't let this experience define her.
"Failure is part of the game," she said. "If you don't think you can be successful at something you need to reevaluate or be doing something different with your life."
Trafton chose to reevaluate. "Fake it 'til you make it," was a recurring theme in Trafton's speech to the track team.  Although Trafton did not feel incredibly confident in her abilities on the inside, the possibility of winning a medal helped her with attitude changes as she went into the 2008 Beijing Olympics.
Trafton was ecstatic when she made the US Olympic team. She received Olympic apparel and owning the Olympic "swag" bag, which came with an iPod shuffled-sized camera with a rotational lens that could take pictures of people without them noticing.
The following four-week Olympic experience was even more memorable. Trafton had the best recorded throw during the preliminary round but continued to "fake it until she made it" in order to get the confidence she needed. She recalls being in the middle of the Olympic field and preparing her last throw in the finals under the slight drizzle of rain.
"I remember looking up and thinking, 'this is exactly where I want to be at this moment,'" she said. "I forgot the past and forgot the future."
Trafton's throw ended up being the best mark in the finals and in the entire competition.
A neighbor of Trafton's who fought in the Iraq War visited her right before she left for Beijing, and gave her an American flag he had carried with him throughout his time in the service.  According to Trafton, he said that the flag had brought him luck and hopefully it could do the same for her.  Trafton paraded this same flag after she was announced as the gold medalist.
Now that Trafton has achieved her dreams, she hopes to break the American and world records in discus and is excited about having a chance to participate in the 2012 London Olympics. She's also been talking with many schools like MVHS about her story to inspire future athletes.
Track and field team coach Kirk Flatow hopes that Trafton's presence will not only foster inspiration in his athletes but also aspiration as well.
"Water cuts through rock not because it's powerful, but because it's persistent," Flatow said. "When you're around great success, whatever the heck [it is], it's the same thing. It's a series of setbacks and a lot of perseverance. And if [the athletes] do that, [they] can destroy rock, too."
Senior track runners Nandini Chitale and Neha Jammu found Trafton's speech worthwhile due to the Olympian's down-to-earth speaking style and ability to connect with the high school students.
"I felt I was able to relate to a lot of the things she was going through," Jammu said. "She had a really low point in her career, which was like me my junior year."
Neither of the girls are looking towards the Olympics but still took away key messages from the Olympian's story.
"I just know I'm going to keep running for the rest of my life whether or not I turn it into a career," Chitale said.