The race case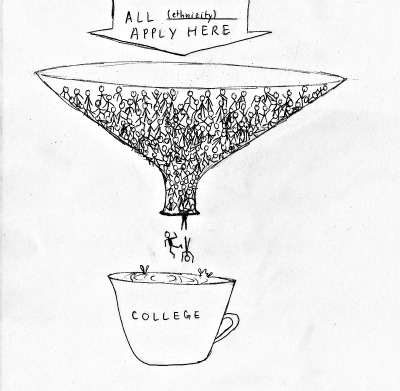 Smitha Gundavajhala
March 11, 2012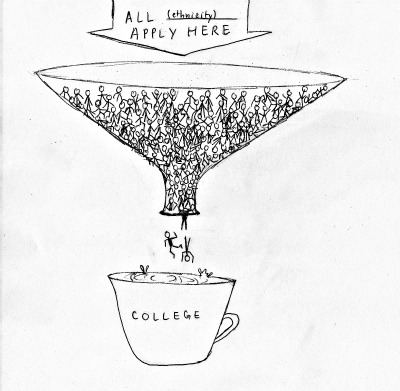 A Supreme Court case is now debating to overturn the decision to limit race-conscious admissions, or affirmative action. Affirmative action has traditionally been considered the enemy of well-performing minorities, which make up the majority of MVHS. Those who benefit from affirmative action on a national scale — that is, African Americans, Latinos, and Native Americans — are not very many at MVHS.
The MVHS bubble doesn't only exist in terms of life experience — it also exists in regards to education. MVHS maintains the naive idea that it is the ultimate in terms of pressure and performance. If you can survive MVHS, the legend seems to say, you can survive anything.
However, there are other schools that don't release their data, but will release their students upon colleges like deadly secret weapons when the application period arrives. Students at these other schools are allowed to double up on AP courses. They have Biology Honors and special programs. Internships at local companies are less closed off to students.
For instance, the National Institutes of Health have over 10,000 internships available to students 16 and older in Maryland alone. Many of the programs in the San Francisco Bay Area are closed off to those below 18. There are more opportunities elsewhere for the few in other schools waiting to seek them, while there are less publicly available opportunities here because of the lack of funding. These are the applicants that we stand up against, the formidable few with resumes that are so packed that colleges cannot turn them down.
Affirmative action is bad news for MVHS because we are above the students at the bottom and below the students at the top. We're not spectacular, except for a few of us, because as a public school, we are limited by funding. Otherwise, we would have every single one of the opportunities those at private schools have. As students at a public school, we are being given an education, not being packaged and sold off to colleges. Some might think that's a good thing. But affirmative action puts us in direct competition with others of our ethnic groups that attend preparatory schools that do just that.
According to Proposition 209, which was passed in 1998, the top four percent of a given high school is guaranteed admission into the University of California. As a whole school, we are strong — our API and test scores are proof of that. But the college admissions process pits students in each ethnic group against one another, and in a school dominated by a select few groups, it is unpleasant to have to compare oneself with other members of their race as opposed to the whole student body. We have enough competition from within our school, but from a pool of all college applicants within our race?
Yes, many of our students are outstanding. But the frame in which we are outstanding shifts with affirmative action, and there are many students waiting out there to claim seats in the nation's top colleges. We can only hope that the Supreme Court remembers all of the reasons why it decided to limit race-conscious admissions so that we may all stand a fighting chance.