Ritards audition for 'America's Got Talent'

Most people are content to stare at the television and watch the judges of "America's Got Talent" rate performers. On Feb. 12 at 1:15 p.m., the Ritards, an a capella group consisting of local high school students who sing together without instrumental accompaniment, auditioned in front of the show's producers in San Francisco. If they move on to the next level, they will sing in front of judges Sharon Osbourne, Howard Stern and Howie Mandel in San Francisco and be seen by over 10 million viewers on television.
The self-run group, founded in 2004, is composed of seven members: Mission San Jose High School senior Brandon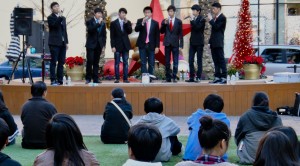 Chen, Harker High School junior Vincent Yao, Saint Francis High School freshman Jonathan Xu, Cupertino High School sophomore Kevin Jan, Lynbrook High School sophomore Eric Wu and freshman Anderson Ju and MVHS junior Eric Liu.
Two weeks ago, Nick Tuggle, the casting associate for NBC's "America's Got Talent," discovered their website and invited the group for a private audition in front of the producers — an opportunity that allows the group to skip audition line.
"Obviously after hearing this I started swearing because I was excited," Liu said. "But I was also nervous because I really want to pass this audition so we can be on TV. We're working really hard."
For the 90-second audition, the group has prepared a mash-up of covers for the songs "Insomnia" by Craig David and "Closer" by Ne-Yo. Their back up song, if the judges request it, will be "Somewhere Over the Rainbow." Yao will be soloing while Liu will beat-box.
"I usually screw up [beat-boxing], [and] I feel really bad," Liu said. "So I am nervous. I can't screw up. "
Liu believes this is their biggest gig so far, even more significant than their performance on the KTSF News Channel in Reno last weekend. As members of the group have graduated in the past, new high school students enter. Liu believes that as more members transition in and out of the group, their reputation has grown.
But with this reputation, for Liu, comes nervousness. To calm himself before big gigs like this one, he tells us that his members tell jokes to calm the nerves.
"Once the music starts, you are just into it," Liu said. "So you calm down by then but it's just nervousness before."
Though Liu hopes that the group will pass this audition, he realizes how valuable the experience would still be if they were rejected.
"If we don't pass, we know we worked on it … and not many people get these chances where they personally email you for auditions. So we are happy anyways."
To learn more about the Ritards, read El Estoque's coverage of their annual Christmas concert, or visit their website, Facebook page, or YouTube channel.