Robotics launches competition season on Jan. 7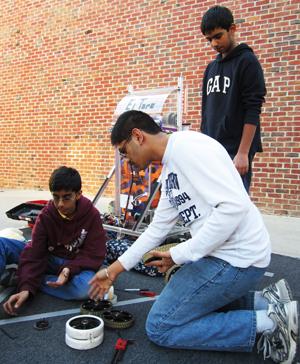 It was 7:30 a.m. on a Saturday, but seniors Anant Singhania and Nupur Garg and junior Evelyn Ding weren't sleeping in. These FIRST MV Robotics officers — President, Director of Engineering and Director of Operations, respectively — were sitting in an auditorium at San Jose
State University, watching the national FIRST Robotics Competition 2012 kickoff video.
That same video was screened in the MVHS auditorium just a few hours later, as FIRST MVRT members gathered alongside other school teams, parents and mentors. Jan. 7 marked the kickoff for the FIRST MVRT build season, a 45-day period for the team to design and construct a robot for competition. After a few presentations, including one from Cupertino City Council Member Rod Sinks, the team transitioned into a project management presentation that opened conversation about this season's robot.
"This is one of the days we make mandatory for all our members to come, because it's really important for them to know the game and know where we're taking the robot," Garg said. "We try making it a group decision and … [help] them understand the pros and cons for going whichever strategy we go with."
New challenges are released by FIRST MVRT's parent organization, For Inspiration and Recognition of Science and Technology, each competitive season; past challenges have ranged from stacking plastic storage containers in the 2003 Stack Attack game to a modified version of soccer, called Breakaway, in 2010. According to Garg, the Rebound Rumble game for this FIRST Robotics Competition season is essentially basketball. Robots from two opposing teams compete on a 27 foot by 54 foot field; they can shoot hoops at different distances and heights to score points. Teams can also accumulate points by navigating robots to balance on see-saw-like bridges at the center of the field.
The team has been working in room F108, the wood shop room and the gym lobby until 6 p.m. each day — starting at 3 p.m. on weekdays and 1 p.m. on the weekend — a pattern that will continue for six weeks. At the end of the 45-day build season, the team is required to put down their tools until the first regional competition, the Sacramento regional hosted at the University of California, Davis from March 17 to March 19.
According to Garg, out of approximately 90 members, about 50 are freshmen. Students who just joined the team this year, aptly named "rookies," attended trainings throughout first semester.
"This year, we actually really tried to make sure each of the freshmen have an opportunity, so we got a few more computers to make sure they would have a chance to work on the robot," Garg said. "We have noticed some of the [project] leads taking on more of [a] management role, and trying to give the freshmen opportunity to work with the mentors and the prototypes."
Freshman Tyler Pennebaker, named one of the most dedicated rookies by Singhania, spent his first semester working in training sessions before moving on to build season with the rest of the team. Pennebaker tries to dedicate as much time as possible to the activity; though he acknowledges that the work is time-consuming, for him, the experience is worth it.
"I think the hands-on experience, it works really well," Pennebaker said. "You get to work with the actual robot, you get to see, this is the cRIO, these are the wheels."
Correction at 2:39 a.m. on Jan. 30: Room F108 was previously listed with the incorrect room number.


This work is licensed under a Creative Commons Attribution 3.0 Unported License.