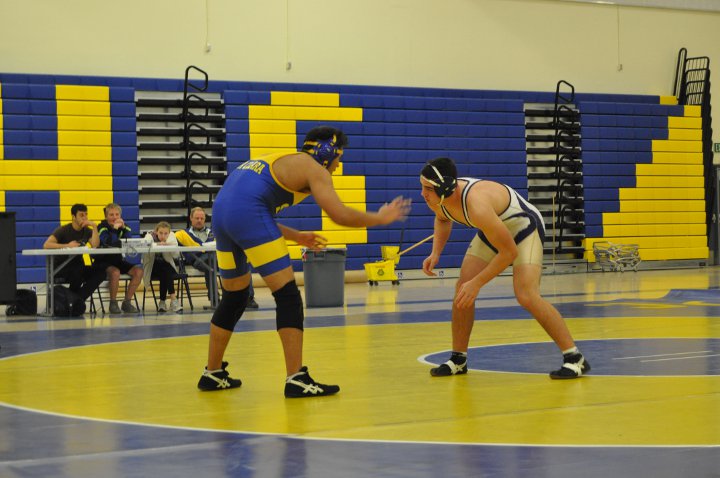 After winning their first league wrestling match against Wilcox last week, the Matadors were left wondering if they could repeat their success against Santa Clara on Jan. 12. They did so in decisive fashion: 9 of 10 individual matches ended in victory, with 8 of the victors pulling off pins against their opponents.
Many of the wrestlers, including senior Phillip Tsai and juniors Ani Rajagopalan and Max Dygert, managed pins with relative ease. Dygert in particular remained in control for all of the two minutes he was on the mat.
A number of the matches, however, were not quite as clear-cut. Junior James Whall struggled for control against his evenly matched opponent. For much of the round, the two wrestlers simply circled around the mat, fighting for the upper hand. Although Santa Clara's wrestler initially took down Whall, Whall made a reversal in the second half of the round and scored 3 points for MVHS.
With only two wrestlers left waiting in the wings, the Matadors were leading 57-0, thus far undefeated. Despite strong efforts, junior Vasanth Thiruvadi was not able to subdue a tough opponent and was pinned, giving Santa Clara their first — and only — six points of the game.
The match came to an intense climax with senior Michael Whittaker's very capable and quick pin of his opponent. After Whittaker stood up, however, his rival from Santa Clara was still lying on the ground, prompting concern from both the audience and players. Whittaker's opponent was later escorted off the mat, appearing to be relatively unscathed.
"You hope nobody gets hurt. Usually it's not a serious injury. I've seen wrestling so long that usually it's something that's quickly overcome," wrestling head coach Kevin Klemm said. "I always hope the other guy's not hurt, and I always hope our person's not hurt."
The Matadors took away a decisive 63-6 victory against the Bruins, and hope to continue this winning streak at their match next week against Lynbrook.
"We wanted everybody to wrestle hard, and we were happy with the effort that everybody put out," assistant coach Ian Bork said. "When you give great effort, you usually get great results."
MVHS will go against  Lynbrook  at Lynbrook High School on Jan. 19.