ACE Mentor program introduces students to career options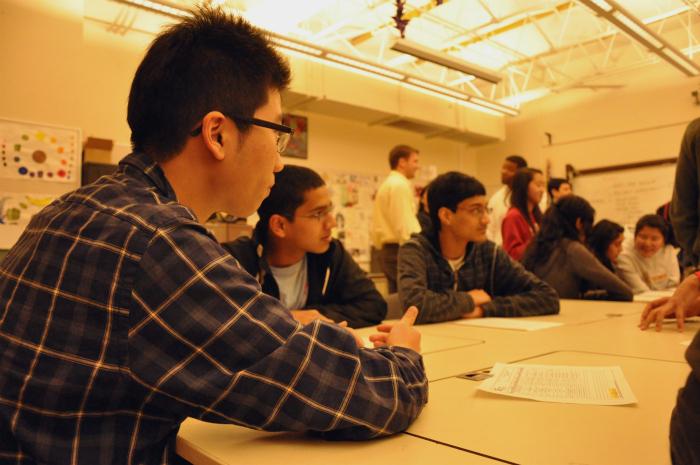 Margaret Lin
January 11, 2012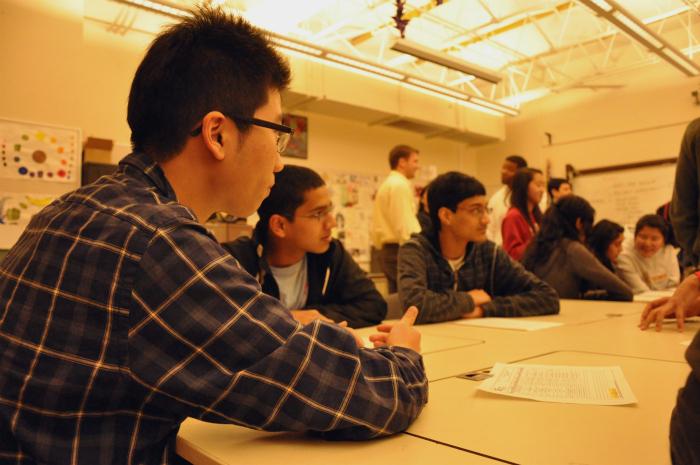 On Jan. 10, after school, high school students from all over the South Bay arrived in MVHS's drafting room to attend the Architecture, Construction and Engineering Mentor Program's first meeting.
The meeting lasted from 4 to 6 p.m. During the session, students learned about the objectives of the ACE Mentor program as well as about the mock project they were planning to take on. This year, they will design the new 49'ers Stadium that is planned to be built in the South Bay. While they didn't work much on designing the stadium this week, in the meeting this week, they do plan to work on the project in the next 15 weeks of the program.
The session was led by architects, construction managers, as well as engineers who had volunteered their time for the program. Most live around the South Bay and specialize in building similar projects to the 49'ers stadium project that the students are working on.
"I get a sense of satisfaction [from the ACE Mentor program]," said civil engineer and mentor Alan Le. "When I was young, there was no program available like this. If they care about their futures, we do the best we can to give them information [they need]."
Students joined the ACE Mentor program for various reasons. Senior Jason So has plans to become an architect and has been in the ACE Mentor program since his sophomore year.
"[ACE provides] a good experience to see what these people do for the community," So said, "[Most people] don't see how much time goes in to [constructing buildings]. So it can be an eye opener."
This year, instead of joining groups of 10 people like most ACE members, So has decided to pair up with a friend from Cupertino High School, making the challenge a bit more difficult to tackle.
However, others like senior Ayesha Nadiadwala joined ACE to explore possible career options. Nadiadwala finds that since she's interested in a wide variety of career options, a program like ACE could give her a chance to actually see if a career in this industry could be the right choice for her.
"Architecture is obviously not as simple as it sounds as a word," Nadiadwala said. "[Additionally, ACE] doesn't require any experience or [money to participate and] it could give you a shot to a scholarship or internship."
As a whole, the mentors all generally agreed that this program would be helpful to all the students, whether they were serious about this industry or just wanted to try something new.
"Even if you don't go [into the industry] you can learn [more] about the streets we drive on and the houses we live in," Sam Huckaby, a construction manager and mentor said. "Construction and design have a big impact in our lives and most people don't notice that."