Marines Corps raise awareness among students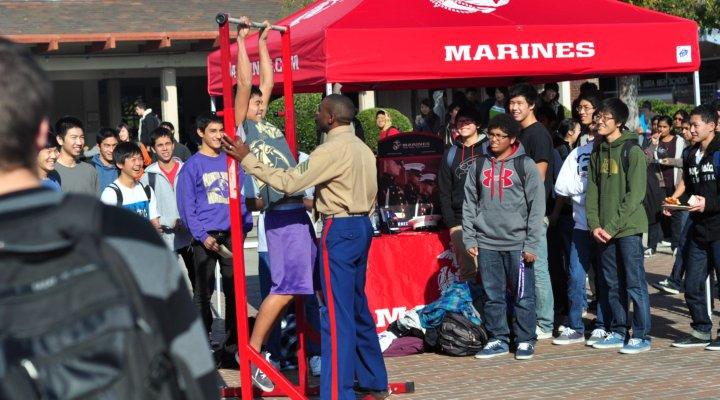 Jacob Lui
December 8, 2011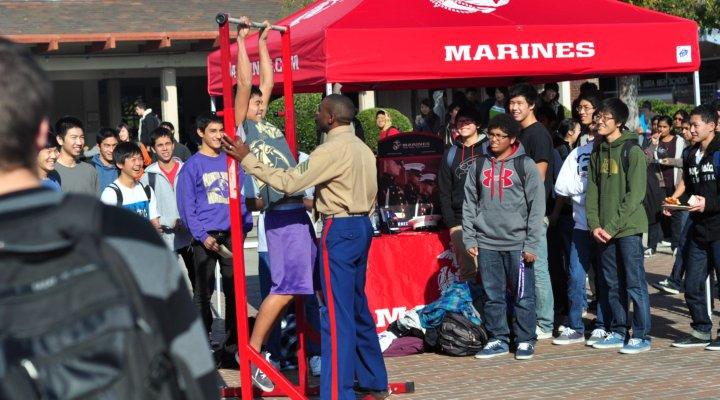 Arms shaking and face grimacing — senior Gabrielle Bornstein gripped tightly onto a pull-up bar, holding her chin above the metal, attempting to maintain her flexed position for 60 seconds. In tights and a shirt, Bornstein was not in any Physical Education class, but right in the center of the Rally Court.
During lunch on Dec. 8, a Marine Corps station was surrounded by intrigued students in the Rally Court, watching student volunteers mount the pull-up bar in the middle of the crowd.
"The pull-up challenge is basically for publicity," Marine Corps Enrique Rodriguez said. "It definitely works."
Over 20 students participated in the annual pull-up challenge organized by the Marine Corps, who passed out incentive prizes to motivate students to volunteer in the activity. The event was not necessarily geared towards drafting volunteers for the actual Marine Corps, but to inform students about the organization's background in a student-friendly setting. Senior Erik Fellom was one of the first students to take part in the challenge, finishing with 22 pull-ups. Joining the Marines is something that Fellom could see as a possibility in the future.
"[The marines] kind of a fallback plan, like a backup," Fellom said, "But this was all for fun."
Students took part in the challenge only as a form of entertainment and a shot at earning a prize.  Bornstein was one of the few girls that climbed onto the bar, a challenge she has done every year during the Marine Corps' visit.
"It's kind of for me to see if I can do it every year," Bornstein said.
Observing students had different opinions on the uniformed men trying to publicize their cause on campus.
"I don't think they're going to have an effect on anybody," senior Yeh-rin Park said. "It's kind of just a way for guys to show off by doing a pull-up. And unless [students] were already planning to join the Marines, I don't think this would have changed anyone's mind."
Yet others saw a benefit in the event, even if they are not planning to join the Marine Corps later.
"I think it's good," Bornstein said. "I mean, I'm not very informed about the army [so] having them come in is a good thing."