Reduced cost Internet available to low income students
Comcast's new reduced cost Internet program, Internet Essentials, was launched for the 2011-2012 school year to help achieve the company's goal of "[bringing] the power of the Internet to more students and families across the country".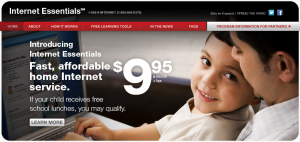 Through the program, families with at least one student who receives free school lunches through the National School Lunch Program can receive Internet service for $9.95 per month, plus tax.
According to the website, the Internet service has download speeds of up to 1.5 Mbps and upload speeds of up to 384 Kbps. A "netbook-style laptop computer" is also available to families for $149.99 plus tax, as well as access to Internet training.
School psychologist Sheila Altmann was watching TV when a Public Service Announcement about the program caught her eye. Aware that not all students on campus have access to the Internet, she emailed the staff with information about the program and spread it to the district office as well.
"Sometimes it's just assumed that everyone has access to the Internet and teachers will say 'Check my website' or 'it's on School Loop,'" Altmann said. "Use of the Internet is embedded in school and education now."
She hopes that the program will alleviate the financial burden of Internet access for parents.
"Hopefully it puts [qualifying] students in a position where they have a computer and they have access to the Internet and that [it] supports their education," Altmann said.
In addition to having a student who qualifies for free school lunches, families must also be located within the Comcast service area, have no outstanding Comcast bills, and have not subscribed to Comcast Internet service within the past 90 days to be eligible for the program.
More information about the program can be found here, or by calling (1-855-846-8376).