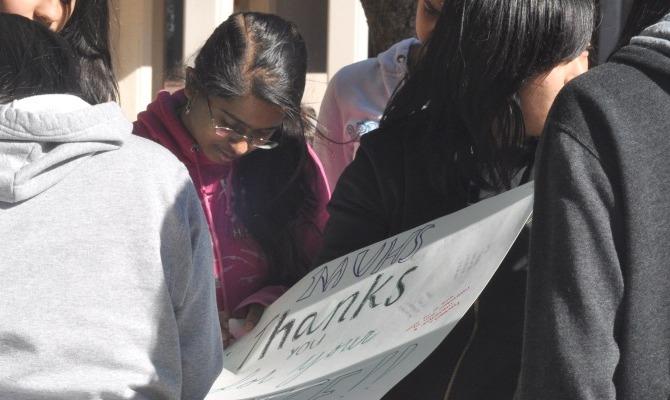 On Nov. 10, Matadors on the Home Front embodied Veterans Day appreciation and made a poster for veterans, which was presented at a ceremony at Memorial Park on Nov. 11.
Club members spent the lunch period carrying the poster around the school, gathering signatures and brief messages of thanks from students. Secretary sophomore Grace Yang feels that Veterans Day is important not only to the veterans themselves, but to the school as well, as this holiday allows the veterans that put their lives on the line to be recognized amidst the havoc of daily life.
"I think that it will show [the veterans] how much we appreciate them. It probably doesn't seem like it that much, [but] we actually do appreciate their work even though we're so caught up in schoolwork and all that," Yang said.
At first, signatures came somewhat hesitantly, with students unsure as to the cause. Gradually, however, people began waiting their turn to express their thanks on paper. Junior Manasa Gurumoorthi, who was one of the first signers, has long since associated soldiers with figures of respect and security.
"I remember when I was five years old, I went to Chicago and I saw this guy in uniform and I was like, 'Whoa, that's so cool,'" Gurumoorthi said."It gave me a sense of safety even though I knew I wasn't in danger."
On Nov. 9, the American Veterans Traveling Tribute, a Vietnam War Veterans Memorial Wall replica, was brought to Memorial Park in honor of Veterans Day. This year's ceremony focused specifically on the Vietnam War veterans, and Variations was among the featured performances. Yang looked forward to the ceremony and encouraged students to attend.
"It's nice to be able to take a moment to do something for the soldiers instead of just worrying about ourselves all the time," said Yang.