Music: String and Chamber's yearly debut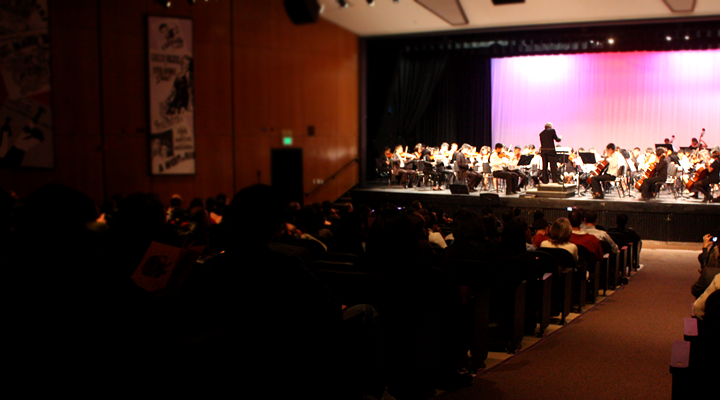 Angela Liu
November 10, 2011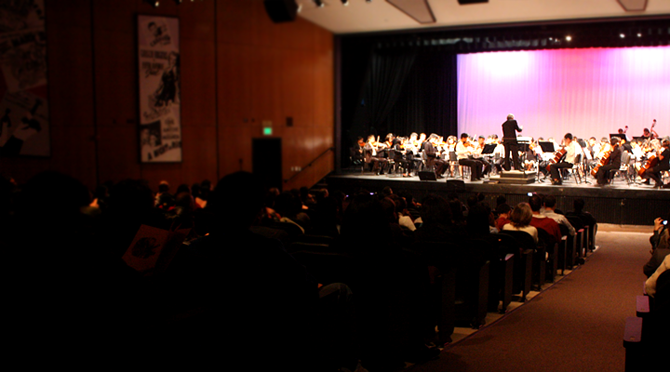 After giving a brief introduction, director John Galli turned around and readied his baton. The members of the orchestra, all dressed in white and black outfits, watched him for a signal. Everyone on the stage was eager to impress those who sat in the seats.On Nov. 9 at 7:00 p.m. in the auditorium, the String and Chamber Orchestra gave their first concert to an audience consisting mostly of supportive parents and friends. The concert was open to all and was free of charge.The String Orchestra started off the show with a somewhat shaky start. The opening song, "Water Music Suite" by G.F. Handel was generally pleasant to listen to, though the shifts between majors could have used a bit of work. It was uncertain whether or not some of the intermittent murky areas were intentional, but as the orchestra progressed further into the program, this hiccup mostly disappeared. The second song played was "On a Shaker Hymn" by Jeffrey S. Bishop. It did not experience the same problem as the first and its notes were noticeably louder, happier and clearer. The section was concluded by the song "Concerto Grosso OP.6 #1" by Arcangelo Corelli, a longer piece that featured violin, cello and harpsichord solos.
After a short break, Chamber Orchestra took the stage. Despite having only  a minute to warm up on stage, Chamber Orchestra immediately impressed all with strong, recognizable notes. The incorporation of flutes and keyboards, as well as the guitar-like strumming of the string instruments, made the orchestra's opening piece, "Fantasia on Greensleeves" by Ralph Vaughan Williams interesting to watch and listen to. Many of the players moved along with their instrument or had their eyes closed, concentrating solely on the music. The next song, a contemporary piece called "Sea Cliffs" by Nicolas Flagello, showcased Chamber Orchestra's control over their instruments. The mournful, high-pitched tune sounded lovely and was not shrill at all. In the final song, "Serenade in E" by Antonin Dvorak, the notes were clearly defined, dynamics were firmly under control, and the songs were charged with energy and excitement. The entire show was simply full of great spontaneity and charm.
The quality of the music, combined with the fact the performance was completely free, made it extremely worthwhile to watch. Though it started off rocky, the concert ultimately left a powerful impression on the audience with its gorgeous, heart-twisting music. In the end, no one paid much attention to the little errors. The Orchestra and audience congratulated each other for playing a great show—and that it was.
Orchestra's next concerts will be held from Jan. 26 to 28