Behind the mask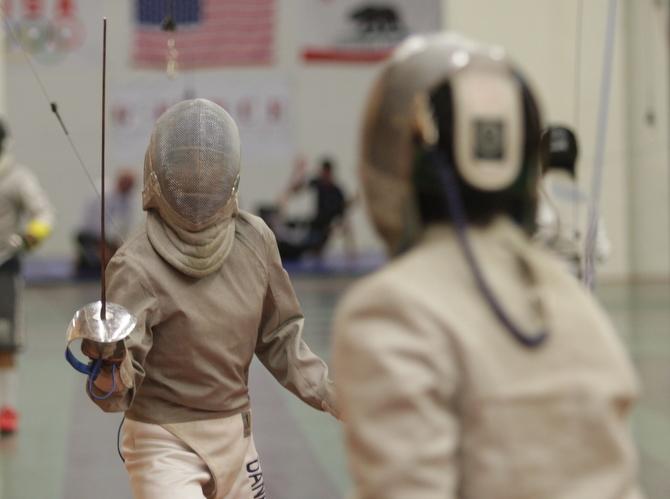 Blood dripped down onto the mats of the California Fencing Academy from coach Daniel Tibbetts' leg. It wasn't from the blade of one of his fencing students though —
it was from playing with his dog. According to Tibbetts, fencing is, despite common perception, one of the safest sports out there, second only to badminton. The sport hasn't aligned with its original, almost ancient, form and purpose – duels that often ended in death — for a century or so.
But even the more modern view of fencing, as represented in the movie "Parent Trap," is dated. The sport is no longer just a ìquirky sport, "Coach Tibbets says. Wires drape from "strip" sensors in the ceiling, plugging into the suits of athletes, and from the suits into the bell guards of the swords. Contact between a blade and a suit completes electric currents and the sensors that hang above buzz at each contact of the blade and suit. It's clear that fencing has come a long way, from blades dipped in black ink to arenas that look like mini electric-car charging stations.
Coach Tibbetts' student, freshman Michelle Danese, is the archetypal modern fencer. Danese represents the change that has happened in modern fencing. She joined because she didnít feel comfortable in a pool, nor on a field, but rather in a suit, with a sword in hand. She's small, but in a sport in which agility and fast thinking overcome brute strength and body type, it doesnít matter.
Skilled with the Sabre
Danese's passion for fencing began when she participated in the California Fencing Academy camp the summer before her seventh grade. She fell in love with the sound of metal clashing on metal, the occasional shriek of joy. It was one of those weeks that changed the course of her life.
In just two and a half years, Danese has become a nationally ranked fencer, one that travels to coliseums around the nation to hear the clashing of bell guards and the screaming of fans. Reenacting her favorite match from a competition in Texas, Danese jabs her sword straight into the air. She sets up the scene: the score was tied 14-14 and there was one last bout left.
"In my last touch, I point-thrusted the girl and my blade snapped," Danese said; point-thrusting is when the blade attacks the opponentís body head-on. "It was like ending with an explosion."
Out of the three types of swords, Foil, …epÈe, and Sabre, each of which has different weapons and tactics; fencers choose one that aligns with their character. Due to her smaller target area, and because sabre awards a point for a hit on any part of the body, Danese focuses on this type of fencing.
"My favorite thing to do is fence above my age category … some of the girls are gigantic," Danese said. "It's funny when they lose — they think 'What just happened?'"
From competitions in Arizona, Georgia and Oregon to the Junior Olympics in Texas, Danese has travelled the nation competing in different tournaments. An emerging national fencer, she has already placed fifth in the top eight in the country at her National competition along with countless trophies and medals which fill her room. However, because she has competitions once or twice a month nationally, she struggles to balance her school work with teaching fencing classes as well as practicing in private and team lessons five days out of the week.
Her weekly schedule consists of a two-hour practice on Monday, a private lesson on Tuesday, a class she teaches for an hour and a half followed by an hour private lesson, then a two hour team practice on Wednesday, a two hour practice on Friday and a two hour class, followed by a private lesson on Saturday.
"If I could make just one of those kids as passionate for fencing like I am, then itís all worth it for me," Danese said. "I'm actually happy because fencing is growing. It has become an Olympic sport now, so a lot of people notice it."
En garde. Prêt. Allez!
Coach Tibbetts describes Danese as the perfect student. According to him, she writes down every fault and every action after lessons and before lessons studies them; none of his other students do that. With her diligence and motivation, along with guidance from Tibbetts, Danese is eyeing the World Cup and the Olympics. Tibbets says she has what it takes.
"Ninety percent of the girls will have some kind of excuse or something to blame it on. [Danese] will throw up in the bathroom, not tell you and keep trying to fence," Tibbets said. "She makes no excuses. Ií' never, ever heard one from her. That says a lot about her character, big time."
Itís not only immense passion that drives Danese  but also her friends at the California Fencing Academy, who she calls her family. Yes, "the family," consisting of her coach, assistant coach, peers and younger students, do spend countless weekday afternoons together, and they do have inside jokes — but they also shove swords in each othersí faces. It seems like they all have a second personality.
But for Tibbets, there's another explanation.
"They put on the mask," Tibbets said, "and now, it is a fight."