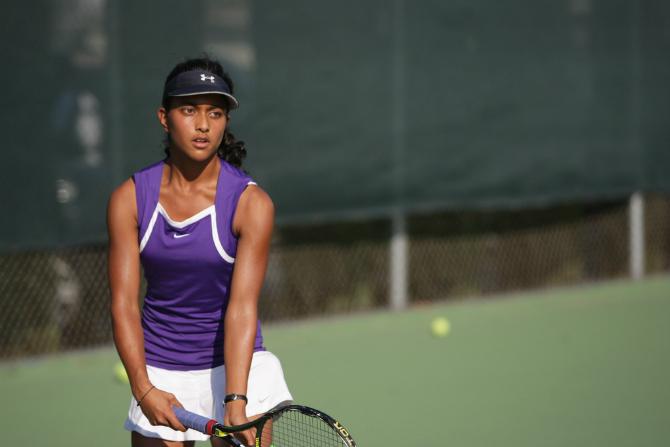 Varsity tennis has clinched the Division I championship of the California High School Tennis Classic at Fresno. The players have pulled off two 4-3 victories over arch-rival powerhouse Saratoga High School. And now, they can claim to be undefeated.The Matadors (21-0, 12-0) edged past Saratoga 4-3 on Oct. 25 before closing out Mountain View High School with a 6-1 win on Oct. 27 to seal the undefeated season. However, it took a true team effort for the feat, as freshman Aiswarya Sankar and sophomore Shwetha Bharadwaj pulled out incredible rallies in their matches to provide key wins for the Matadors against the defending NorCal champions."They were really mentally strong," Fortino said. "They didn't give up and that's all that I can ask …I'm proud of the whole team, but them there at the end to pull it out is nice."MVHS took number 1 and 2 doubles in straight sets. The one doubles pair Junior Ruri Kobayakawa and sophomore Kelsey Chong fought through the threatening but error-prone Saratoga pair to win 6-3, 6-2. In two doubles, sophomore Sabrina Mui and freshman Angella Qian struggled through the first set, but they displayed solid teamwork as they cruised to a 7-5, 6-1 victory.
"Both of them got down two or three games in the first set, and they both came back and won in straight," Fortino said.
Meanwhile, junior Wendi Kong had to face senior Crystal Yen, a five-star recruit according to tennisrecruiting.net, dropping 1-6, 1-6. MVHS' number three doubles pair senior Claire Chin and junior Tiffany Lian played a closely contested first set, but started the second with a 0-3 hole to fall 3-6, 3-6. The aggregate score was now 2-2, and the last three matches—two, three, and four singles—would decide the outcome.
In number 2 singles, junior Jody Law held a 5-4 lead in the first set over Saratoga senior Kalyani Norayan, but Norayan kept pounding the ball to keep Law chasing behind the baseline, taking away the critical set in a 7-5 tiebreaker. The two traded games the entire second set, but Norayan's strong winners kept her on top at the end despite Law's best efforts.
Sankar in three singles and Bharadwaj in four singles each took a set, but they got into deep trouble in the second set. But at the heat of the moment, both held firm while the Saratoga players committed errors repeatedly.
"Both teams…what can you say? Both matches 4-3, [and] couple points here and there kind of decided it," Fortino said.
Featured Games
Number 1 doubles: Kobayakawa and Chong cruise with Saratoga's Lisa Asai and Sarah Lum's errors (6-3, 6-2)
In the second set, Asai held serve to start, but Kobayakawa matched up accordingly, serving out three aces to bring herself and Chong back up 2-1 lead to start the second set, but they could not control the net points as they made questionable decisions up front.
Just as the Saratoga pair capitalized on MVHS' net point shortfalls, their serve-receive broke down, even on Kobayakawa's secondserve. That gave Kobayakawa and Chong a well-needed break to finally pull away.
The MVHS pair extended the lead to 5-2, but they had trouble gaining the break point at the end against Asai's blazing serves. However, Asai double-faulted to end the game in the Matadors' favor.
Number 3 singles: Freshman Aiswarya Sankar scores a miraculous comeback versus junior Nikki Bedelear (6-4, 7-5)
Even though Sankar took the first set, she quickly lost the upper hand against Bedelear to fall behind 1-5 in the second set. After a talk with Bruce Becker, the boys varsity tennis coach, Sankar showed a complete turnaround, taking command of the shots and attacking Bedelear's mishit shots and second serves. Frustrated, Bedelear started to commit mistakes, including costly double-faults, allowing Sankar to pull out an improbable second set comeback.
"Something Coach Becker said helped, and then I was confident and I played well, and [Bedelear] broke down," Sankar said.
Number 4 singles: Sophomore Shwetha Bharadwaj edges opponent Smita Sabada in two tiebreakers (7-6 (7-5), 7-6 (7-1))
Like Sankar, Bharadwaj fought for a crucial first set win. However, she found herself facing a 1-4 hole since Sabada was able to
dictate play. But Bharadwaj capitalized on Sabada's numerous mistakes to close the gap to 4-5.
Although Bharadwaj had to rely on her second serve, she remained patient with her rallies, suddenly building up a 6-5 lead. Sabada would not back down, fighting back to tie the game once more on decisive winners down the sidelines.
In the tiebreaker, Sabada faltered, first with a double fault and then with forehand shots into the net. On the other side, Bharadwaj remained unfazed by the pressure, hitting a winner down the side to go up 6-0 in the tiebreaker.
With the match at 6-1, Sabada pushed Bharadwaj back behind the baseline with powerful shots before one of them hit the net and just dropped over. Bharadwaj surprised Sabada with a swift return cross court to save the rally and eventually completethe Matadors' fourth, decisive win.
Seniors celebrated in last home win versus Mountain View
While the team knew they were undefeated heading into the match versus Mountain View, they held the customary Senior Day celebrations, expecting even bigger challenges ahead in CCS.
Senior Claire Chin played number 2 doubles while seniors Nitisha Mehta, and Suruchi Salgar played together in their final regular season home game.
The rest of the team took care of business, and with the 6-1 win at the end, the team celebrated with pizza and cake as the seniors reflect on their season.
"Certain points are memorable, I think. Certain days are like fun," Mehta said. "Secret sister, practices…
"…Just like when we're on together as a team," Salgar added.
Overall, the young team quietly built up its season, starting with the big win at the California High School Tennis Classic as they defeated Menlo High School 6-1 in the semifinal and then Archbishop Mitty High School 5-2. Saratoga would be the team's true test, pushing them to the limit in their Sept. 29 match-up, and then once again Oct. 25. The next challenge now will be to repeat their success in the CCS and NorCal postseason tournaments.
"It was good to end on a positive note," head coach Gene Fortino said. "The girls really played well, and now we're getting ready for CCS. We'll see but it's going to be a real challenge."