Incubus, Young the Giant play at Shoreline Ampitheatre
El Estoque Staff
October 17, 2011
Smoke, beer and sweat mixed into an intoxicating aroma that made one thing obvious: this was a rock concert. On Oct. 9, alternative rock band Incubus headlined at the Shoreline Amphitheater in Mountain View promoting their new album "If Not Now, When?"
Incubus is a five piece rock band fronted by lead singer Brandon Boyd. The band is known for delving into a variety of musical styles.  Despite their dynamic style, the concert ran dry at times, as Incubus seemed intent on playing every single single from their 20-year run.
Opening up for Incubus was Young the Giant, an indie rock band based in Irvine, Calif. Lead singer Sameer Gadhia mentioned that he went to college in the Bay Area. He then dived into one of the band's single: "Apartment." Gadhia crooned with a smooth voice that was almost sickly sweet, like a fruit that was about to become overripe. However, it all seemed to work, as his charisma piqued the interest of the crowd in a way that was rare for an opening band.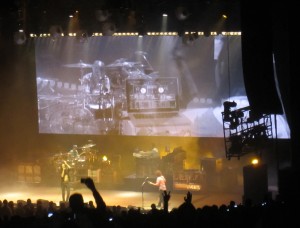 Despite this, when Young the Giant played their last song, and Brandon Boyd walked onto the stage, the enthusiasm was evident as the crowd finally got what they were waiting for: Incubus.  Ear drums popped and girls screeched; you could feel the energy crackling in the air. The band opened up with "Megalomaniac," a teeth-attling metal anthem that amped up the crowd. However, after the first couple songs, the concert began to drag, leaving all but die-hard fans restless as Incubus played single after single. An hour later, the band played their hit song "Drive." The irony of a song about the dangers of drunk driving was heavily evident, due to the mostly intoxicated crowd.
The concert overall was slow in places, but when it picked up it really picked up, reminding fans of why they listened to rock in the first place.  Boyd's shouting voice, the electric guitar, the driving drums— all these contributed to a heart pounding concert experience.