Lunches for less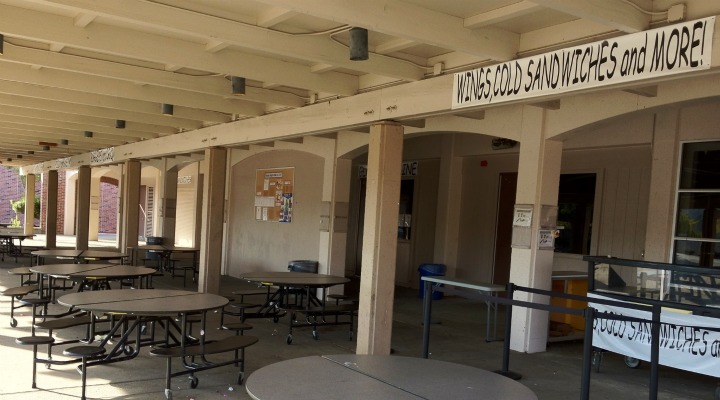 As of Sept. 30, students who were participating in the free or reduced price lunch program at MVHS were to renew their applications to continue the government support for the 2011-2012 school year.
The name implies precisely what it means, students whose family incomes meet the federal poverty threshold are eligible for the lunches. The maximum cost for a reduced price lunch is capped at $0.40, and likewise at $0.30 for reduced price breakfasts.
"Not many people know that I get reduced lunch, only my really close friends," a senior who wished to remain anonymous said. "But they definitely don't treat me any different because of it."
But despite the recent raise in lunch prices and the national unemployment rate still touching bottom, MVHS Food Service manager Frank Lihn doesn't expect significant changes in the overall enrollment numbers this year. After all, he claims, MVHS has barely seen the declining financial situation that the rest of America has been battling.
"[At MVHS] below one percent of students get free or reduced lunch," Lihn said, "It's been staying pretty static. I'd be shocked if more than fifty students applied [this year]."
Lihn has replaced former food service manager of eighteen years Emerind Wine. Before MVHS, he worked at schools in Sacramento and Santa Barbara. However, according to Lihn, the situation at MVHS is significantly less dire than those he had previously encountered.
"I [saw] these kids that go to the salad bar and take the little bread stick packages and stuff them in their pockets to save for later because that's all they're going to get to eat, because their parents won't—can't—feed them for the rest of the day," Lihn said.
Out of all the schools he has worked at, Lihn says that Robla Elementary School has the most students involved in the free and reduced lunch program. According to the Robla School District website, breakfast and lunch are provided free of charge everyday.
But how does free and reduced lunch work?
Any student can apply for this program if his or her household's income is between $20,147 for one child to $68,616 for eight children. The National School Lunch Program is a government meal program that provides nutritionally balanced, low-cost or free lunches to children every school day. The United States Department of Agriculture oversees the program nationally, but in the state of California, the program is administered by the California Department of Education, Nutrition Services Division. Towards the end of each year, the free and reduced program expires for students involved and they must reapply for it by filling out paperwork that gets processed by the FUHSD district office.
The Food and Nutrition Service takes careful steps to ensure every student's confidentiality by entering the information into a database for hassle-free identification. There is a separate software and code number for the program that indicates free and reduced lunch. When a student, who is part of the program, buys breakfast or lunch the code appears on the computer screen. The strict confidentiality of the program ensures that the student's financial situation is not publicly known. The anonymous senior believes the program to be an amazing deal that made meal times easier on his/her parents and his/herself.
"Before, my mom was the one always making me lunch, but she never really had time for it and neither did I," he/she said. "The food prices at MVHS are so expensive, but I get it for $0.40."
But the anonymous student is not the only grateful one. Lihn strongly supports the free and reduced lunch program because he knows that if some schools fail to provide the students with food, it is likely that they will not eat all day.
"It's heartbreaking to see, but we do the best with what we have," Lihn said. "[The free and reduced lunch program] is a critical and vital aspect of the schooling in the United States since there is so much poverty elsewhere."