Athletic Booster organizes annual Crabfeed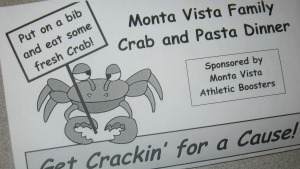 Howard Lee
September 29, 2011
On Sept. 30, the Monta Vista Athletic Booster will hold the  Monta Vista Family Crab and Family Dinner, an all sport fundraiser.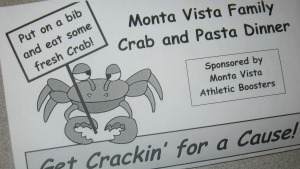 The food, including crabs, cold pasta salad and dessert, will be prepared by parent volunteers from the Booster and served buffet style. There will be live music from the MVHS Jazz Band.
The money raised by the fundraiser will go towards the Booster's general fund. Sports teams have some of the money redistributed back to them, while the rest remains in the general fund until a need occurs, such as purchasing new equipment.
Organizers of the event are hoping for a large turnout this year in particular. But ticket sales have been slow so far.
"We are expecting some expenses, especially with the new [football] fields," said Dana Sterns, a Booster member in charge of the event. "The Crabfeed is an important fundraiser that generates lots of funds, so it's really important for more people to attend to get more money."
money."
The Crabfeed will take place on Friday, Sept 30, in the rally court at 6 p.m. Tickets are $30 per person. They can be purchased at the front office or by emailing [email protected]