After last year's tough loss at the CCS finals, the Matadors are right back in the running to redeem themselves. Fresh off a Fresno tournament win, the Sept. 20 game against Gunn again showed off their dominance as they cruised to another 6-1 win. They are now 9-0 in league.
This game showed off the power of the girls' single rotation as juniors Ruri Kobayakawa, Wendi Kong, and sophomore Kelsey Chong all quickly won their matches. Kobayakawa and Chong won their matches 6-0, 6-0, while Kong only gave up one game to her opponent.
"They did really well today. They stayed focused," head coach Gene Fortino said. "You can't come out and be distracted. They won and got down to business today."
The only loss of the day came to doubles three, senior Nitisha Mehta and junior Winifred Tung whom only lost after two tough losses in tie breakers. However, Chong, who normally plays one doubles, said that the doubles this year looks very strong.
"We bonded well so we have good teamwork, especially in the doubles," Chong said. "This year the doubles team got closer, so they connect together more."
Featured Match:
MVHS sphomore Kelsey Chong defeated Gunn High Scool senior Mari Haraguchi: 6-0. 6-0
From the start of the match to the end, Chong had complete control over the match. After a powerful start, Haraguchi was never able to keep up as she constantly framed her shots and was unable to return Chong's strong serves multiple times. Even when it was Haraguchi's turn to serve, double faults were not uncommon and Chong was able to capitalize on it, winning 6-0 in the first set.
The momentum continued into the next set as Chong was able to continue her dominance over Haraguchi. Strong forehands and a mixture of high lobs and low shots kept the game out of reach for Chong's opponent. The second set looked very similar to the first as she won 6-0 to quickly finish up the match.
The Matadors next home game will be a non-league match-up against Menlo High School on Sept. 28.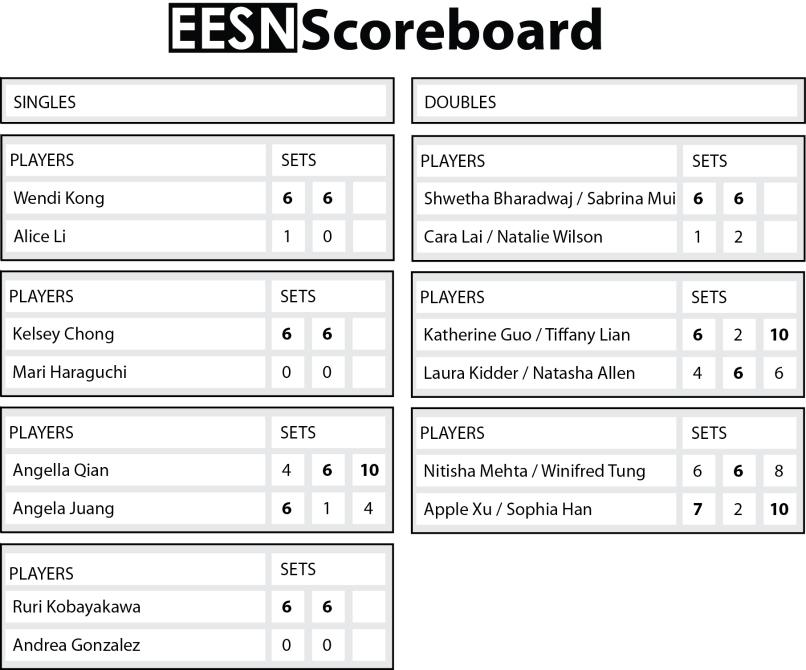 This work is licensed under a Creative Commons Attribution-NoDerivs 3.0 Unported License.