Pure White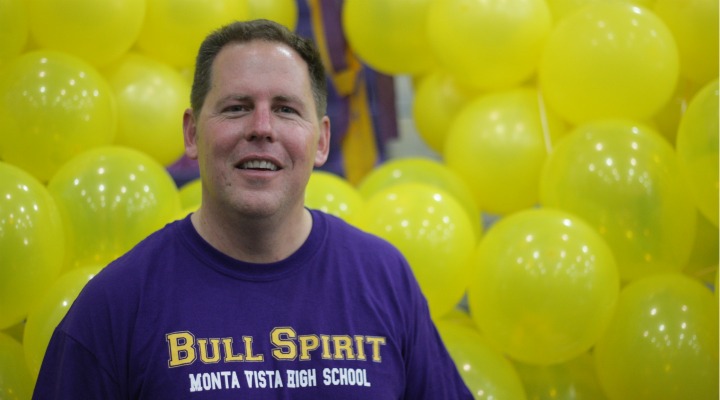 He is an acapella singer, a champion 'Simon says' player and the latest Dean of Students at MVHS.
Meet Mike White.
After spending four years with former Assistant Principal Denae Moore, the Leadership class and Link leaders have opened up to their new advisor, White. For the last 14 years, White has been a part of Link and Leadership and he began participating in both of these programs through the Boomerang Project, an organization that owns the Link program and its curriculum. White plays the role of a trainer for this organization and travels throughout the U.S. and Canada, training other educators on how to bring the Link program to their schools.Currently at MVHS, White works alongside the other Link and Leadership advisers, Assistant Principal Michael Hicks, science teacher Jenna Smith and English teacher Chelsa Anderson.
"He's incredible," said Anderson. "Since he has more concrete experience, he guides us to get the programs closer to that excellence we want."
Since he comes from a different school, White has unique ideas from the other advisers and commissioners that he uses to improve both Link and Leadership.
"Link and Leadership are all about compromises," said White. "We are all working to have both programs flow more smoothly."
Although he is new to the Link and leadership staff, White comes with a knowledge and understanding that has developed from his 14 years working with students in middle school and in high school.
"Mr. White is a good addition to Leadership," club commissioner junior Britni Chon said. "He definitely provides new insight and has some ways to spice up the program."
White has worked at a multitude of schools, including James Logan High School, Lynbrook High School, Willow Glen High School and MVHS. Adjusting to a new school can be difficult, even for teachers, but according to Link Leader junior Vivian Duong, the students are trying to make White feel more comfortable at his new job at MVHS.
"Mr. White mostly regulates rules and reminds us what we can and can't do," Duong says. "But we acknowledge him outside of class since he's another friendly face in Link."
"But White holds more than a friendly face—he holds the title of a 'Simon says' champion."
What many do not know is that White holds the title for MVHS' 'Simon says' championship.
"I always win," White said. "You just can't lose."
'Simon says' is a popular game played with the freshmen during Matador Retreat, but once White's 'Simon says' skills were discovered, an office staff game was enforced.
"When it's my turn," White says,  "I say, 'Simon says jump in the air. Now come down!'"
Well, Simon didn't say to come down.