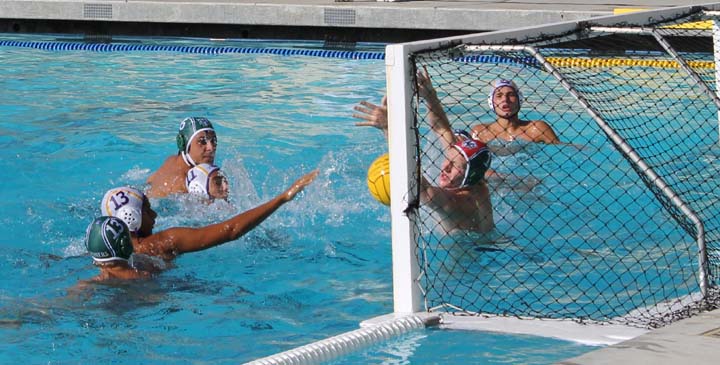 After losing a game to Davis High School on Thursday, Sept. 8 and winning one against Gunn High School on the day after, the varsity boys water polo team picked up their second win of the season in the annual John Schmitt Memorial Tournament on Sept. 9, bringing their record to 2-1. The team advanced to the next level of the tournament, which consists of two more games on Saturday.
The Matadors got off to a quick start against El Diamante High School, scoring seven goals in the first period while only allowing two.
"We figured out who [El Diamante's] weak players were," junior Omer Yosef said. "We shut them down early."
During the second period, with the score at 7-2 at the start, the Matadors looked strong as they were able to retaliate multiple times whenever they were scored on.
Sophomore Colin Hong's speed gave the Matadors' possession of the ball at the start of the third period, but the Matadors were unable to score because of repeated blocks by the El Diamante goalie. El Diamante managed to score another goal, but a pass from junior Alan Yap gave senior Cameron Yates the opportunity to take a clean shot, making the score 10-5.
Yates and junior Brendan Duffy, along with some other players, contributed several more goals, bringing the score to 13-7 and giving the Matadors a comfortable lead. Blocks by junior goalie Owen Hardee helped the team maintain this lead, and even though El Diamente was occasionally able to tack on goals, the Matadors still outscored them to keep a safe distance.
The Matadors continued their strong offense, bringing the score to 16-9 in the fourth period. El Diamante was able to score two more goals in the last few minutes of the game, but MVHS won by a final score of 16-11.
The team played its first three official games as part of the tournament, which gives the players and coaches an idea of what the upcoming season will be like. After playing against and watching the games of some of the most competitive teams in Northern California, the Matadors see their performance in this tournament as an indication of what to expect in the next few months.
"We're using this as a learning experience," assistant coach Mike Yates said. "We have a young team… so I expect the rest of the season to be like [how] we did during this tournament."
With 32 Northern California teams participating, the tournament runs from Sept. 8-10. Each team plays a total of five games. The Matadors' next game will take place at noon on Sept. 10 at Lynbrook High School.