Speech and Debate hopes to draw in new members with showcase
Interpretive and impromptu events, among others, to be performed on Sept. 2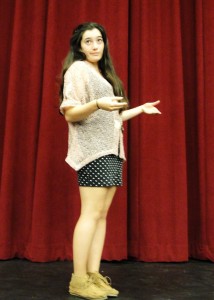 Junior Kazmiera Tarshis is not schizophrenic—nor is she the wife of a famed American writer. But this Friday, Sept 2. during the Speech and Debate Showcase, she will be.
Tarshis, who is an Interpretive captain, will be performing a Dramatic Interpretation of "The Last Flapper", a play about the schizophrenic Zelda Fitzgerald.
Equally transformational roles will be taken on in a Duo Humorous Interpretation by Interpretive captains juniors Sruthi Mamidanna and Gavin Wong.
Their performance is an interpretation from the 1980 movie "Airplane!", which is about an emotionally scarred man who must safely land the plane that his girlfriend, an air stewardess, is on. Mamidanna and Wong must be creative with their act, because the rules of their particular event say that they cannot touch or look at each other.
Other events include Original Oratory, a persuasive and often humorous speech, and Impromptu, which will be given by sophomore Vishnu Shankar. Shankar will give a speech after an audience member gives him a topic on the spot with only three minutes to prepare.
"We have our members show all the different events in speech in hopes of getting the audience to want to join Speech," Mamidanna said.
Speech and Debate members have been preparing for their acts—the scripted ones, at least—over the summer.
"We search movies, we search books, we search plays [for material]. Then we have to cut it…which is always the hard part because there's so much good stuff," said Tarshis. "We memorize and practice, and then we suit up and perform."
The Speech and Debate Showcase is free and will take place this Friday, Sept 2. in the Auditorium from 3:30 p.m. to 6 p.m.