New senior finals system shows consideration for students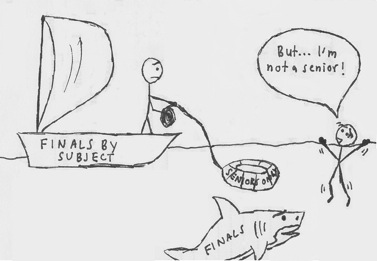 Changing a system that has been in place for years and years is not necessarily bad. In the case of this year's new system of senior finals, the change is not only a good decision by teachers, but also a victory for students.
Second semester finals for seniors have traditionally been administered according to period. In theory, this system should work smoothly because it stipulated that only two to three periods would have finals on any given day, evenly distributing finals across an entire week. But in practice, the system was a failure because it does not distinguish between core and non-core classes, leading to the possibility of students having multiple academically "heavy" finals in one day.
This year's senior finals system brings relief to students because their stress levels are finally being considered in administrative decision-making. The shift from organizing finals by period to organizing finals by subject is so simple, yet so revolutionary because because students no longer face the possibility of having multiple "Big Five" (English, Math, Language, Science, and Social Science) finals in a single day. The schedule has been deliberately designed by teachers to distribute "heavy" finals throughout the entire week.
Bravo.
Such exemplary consideration for the needs of the seniors and ultimately the needs of the student body deserves much credit; administration could easily have continued using the old system regardless of its flaws. There was no incentive and no immediate benefit for administration to change the administration of senior finals, other than the increased well-being of its students.
In keeping with this trend of looking out for its students, administration should continue to enhance finals by applying the new system of finals to the rest of the school, not just the seniors. Freshmen, sophomores, and juniors continue to bear with the significant flaws of the previous system and deserve the same treatment that seniors have received.
It is heartwarming to see administration going out of its way to improve academic life at MVHS. This trend of prioritizing the student body over all other issues is praiseworthy, lending itself to the idea that contrary to popular belief, teachers are looking out for us after all.