Student-organized Japanese culture festival on May 21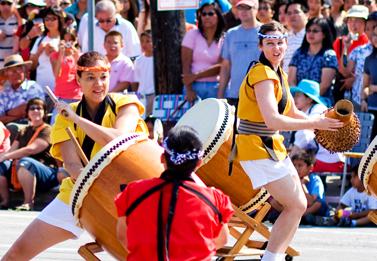 Traditional Japanese food, games, and performances offered at Bunkasai
For those who equate Japanese culture with little more than sushi and mochi, a learning opportunity is right around the corner.
On May 21 from 2:30 p.m. to 7 p.m. at Cupertino High School, several FUHSD culture clubs will be hosting a student-organized Bunkasai, which literally translates to "culture festival." The event has been coordinated by the Japanese National Honor Society from all FUHSD schools except Fremont High School, as well as the CHS International Club and Lynbrook High School Japanese Club.
The idea for a district-wide Bunkasai originated from CHS Japanese National Honor Society, one of the main event coordinators. According to CHS JNHS co-president senior Emily Matsunami, the original intent was to share aspects of Japanese culture to the local and student community. The focus later shifted in order to also incorporate support for the Japan relief effort.
With no admission fee, performances by singers, dancers, and the San Jose Taiko drum group will be open to the public. The festival will also feature a movie, raffle, and traditional Japanese food and games. Available dishes range from ramen to okonomiyaki, a seafood pancake prepared by MVHS JNHS; games include the popular Japanese water balloon fishing yo-yo suki activity. Visitors can purchase tickets for $1 each at the event, which will be used as the currency at available booths.
Other attractions include a haunted house and a maid cafe, where students dressed as maids and butlers serve the cafe customers. Both ideas stemmed from a trip by the CHS JNHS during summer 2010, during which approximately 20 club members visited Japan and an actual high school Bunkasai.
"What I like about the Japanese culture is like, the holidays… and the community atmosphere," MVHS JNHS co-president senior Andrew Shiah said. "Bunkasai isn't really a holiday, but it's just… a way for the whole entire Japanese community and students to get involved."
According to Shiah, every dollar generated from the event, not just the profits, will be donated to the American Red Cross to support the Japanese relief efforts.
Participating clubs have been advertising the festival within their respective schools as well as around the Cupertino Japanese community, with event information posted in supermarkets like Marukai and Daiso, and in the local Japanese newspaper.
"It's a fairly big event with a lot of food and a lot of games so if all the schools were [not] in the event, we would [not] be able to do it," Matsunami said. "We basically wanted to bring a piece of Japan here [to the community]."
{cc-by-nd}