Baseball: Matadors win pitching duel against Santa Clara 2-1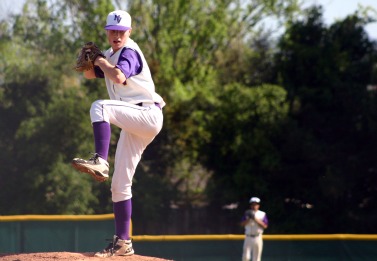 Matadors catch up to Santa Clara on top of the league with a walk off single
First game starting on varsity is no problem for sophomore Peter Stern. Fresh from JV, Stern won an intense pitching duel against Bruins starter senior Sean Oswald for Stern's first start for varsity this year.
The May 5 game was no doubt a crucial one for the Matadors (14-10, 10-3), who were one game behind Santa Clara (12-12, 10-3). With this win, the two teams are now tied for first in the league.
Stern pitched six-and-a-third innings of one run ball leading his team to beat the Bruins with a 2-1 lead. Junior Matt Kelley capped off the win with a walk-off single to win the game in the 7th inning.
The offense from both teams was kept on hold by both pitchers, as the game only had a total of four hits in the first five innings of the game.
"He pitched really well," junior Matt Kelley said. "It has been the best he has ever pitched and we really needed it.
However, by the sixth innings, the bats started to come alive as the offense from both teams helped each of the teams get on the board.
Oswald was the first to falter as Stern started the inning with a single and then a steal to get to second base. Junior Austin Burrow did the rest by hitting a line drive out to right center to get the first run on the board.
The Bruins quickly came back with an answer as senior Cody Levene hit a home run to tie the game in the 7th inning. The Matadors seemed in trouble as relief pitcher junior Jack Faraday hit a batter on his first pitch in the game. Faraday would get replaced after that one pitch as coach Brian Sullivan put in junior Ian Anderson to get out of the inning.
In the bottom of the 7th, senior Nathan Burroughs singled and then stole second base, similar to what Stern did in the previous inning. Kelley then drove in the run with a strong single through the middle of the field to get the walk-off single to win the game.
"I was really nervous during my at bat, but it was a big relief once I got the hit," Kelley said. "[Hitting a walk-off] has happened before when I was like 12, so it has been a while."
The Matadors last home game and senior night will be on May 7 against Fremont.
{cc-by-nd}