Your guide to the Royal Wedding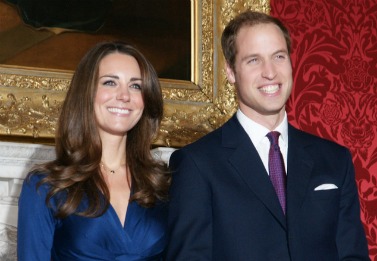 Whether you're planning on watching it live, recorded, or not at all, here are the basics and the unbelievable


And you thought the Super Bowl was big.
At 3 a.m. PST this Friday will begin what is speculated to be the most-watched event of the year — and at its center, a girl in a white dress.
The royal wedding between His Royal Highness William Prince of Wales and Catherine Middleton has captivated not just the United Kingdom, but the whole world. The first royal wedding of the 21st century and the first to capitalize on the capabilities of today's social media and multitude television network, William and Kate's wedding has an expected viewership of two billion people worldwide. Here is what you need to know:
The couple

Prince William is the son of the late Princess Diana of Wales and His Royal Highness Prince Charles, currently first in line for the throne, making William second in line for the British crown. Catherine Middleton, more commonly referred to as Kate, is the daughter of two non-royal British citizens who came to unexpected wealth through an online store selling party favors.
The two met while in college at University of St. Andrews, where they became friends and were flatmates before falling for each other. They dated for nine years, with a several-month breakup in 2007, until announcing their official engagement on Nov. 16, 2010.
The Wedding
The royal wedding will happen in Westminster Abbey, a church that has seen 14 royal weddings and 38 coronations thus far. The ceremony is set to start at 11 a.m. local time, with everything — from Middleton's car ride from the hotel to the church to her walk down the aisle — timed to the minute. The full program is available here (PDF).
The guest list includes celebrities such as David and Victoria Beckham and Sir Elton John, along with a thousand of the couple's friends and family members. Dozens of royal dignitaries are invited, as are political leaders from the Commonwealth. About 1,900 guests have been invited to the wedding.
How to watch it live
The Royal Household will be streaming the entire wedding live on their YouTube channel, http://www.youtube.com/user/TheRoyalChannel. Cupertino is eight hours behind London time.

ABC — 10 p.m. Thursday

BBC America — 12 a.m. Friday

ABC, NBC, CNN, Fox News, and E! — 1 a.m. Friday

CBS — 2 a.m. Friday
The craze
Are you watching the royal wedding? Leave a comment below!