From individual tees to a connected team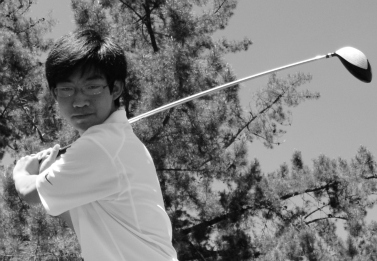 Boys varsity golf members bond over killed birds, heritage and French fries

French fries may just be nothing more than French fries.
But for athletes in a sport so individualized that the teams exist in name only, it's over garlic French fries when the bonding occurs.
"Our team unity is more important than anything else," said junior Sujay Yatrapraganda, a member of the boys varsity golf team. Of course, Yatrapraganda and sophomore Michael Abu-Omar were the ones helping sophomore Stephen Ting finish his fries after a practice match at Deep Cliff Golf Course on March 22. MVHS won that practice match against Cupertino High School. It was also Yatrapraganda who was jokingly railing on Abu-Omar for liking to dip his fries in mustard, lightheartedly blaming it Abu-Omar's German-Palestinian heritage.
It's been roughly a month since members of the golf team, currently with a 4-5 record, first came together. With this year's team composed of only rookie varsity players, a first for boys varsity golf coach Jeff Thomas, many players did not originally know each other. And no one knew Abu-Omar, who just moved from Indiana at the beginning of the school year.
Still, it was easy for members of the team to get to know each other.
"[Golf] lends itself to socializing," Thomas said, "because [players are with each other] for two and a half hours [to] three hours at a time on the course."
With the socializing came the bonding—and the joking. Members don't deny that freshman Pranav Mayuram is the butt of many jokes. However, even Mayuram believes he deserves the joking—many of them based on his golf team mishaps such as arriving to a practice after it had ended—and laughs along as well.
Jokes go around to any member with a golf mishap. Sophomore Ryan Khodi has taken the heat for hitting a photographer with a golf club during a photo shoot. Freshman Bryan Ng was teased for dancing in his boxers in the locker room before one golf match. The instance golfers make fun of most is Yatrapraganda's accidentally killing a bird during a golf match.
Of course, ití's not all fun and games when it comes to building team relationships. Another crucial aspect of bonding is respect. According to Mayuram, team members respect the abilities of one another—whether they are the number one and two seeds, which switches between Khodi and Ng, or the lower seeded players like Mayuram himself.
"We're better at different aspects of the game, so if someone's good at short game, I might go [and] ask him, 'Hey, how do I do this?'" Yatrapraganda said.
Because of the time the team has spent together, Yatrapraganda believes he knows almost everything about each teammate, even though it is only halfway through the golf season. And Ng feels "physically connected" to them—spoken in jest, but still a good indication of the friendship between members on the team feel.
"Going out there every day, playing together every day, golf makes you really connected," Yatrapraganda said.
Some days, it just takes some French fries to facilitate that team bonding.