Career Technical Education Showcase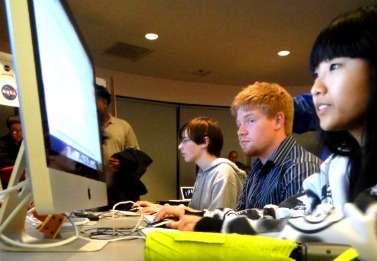 Karishma Mehrotra
March 29, 2011
Demonstrations from various career course in the FUHSD are held in the Quinlan Center
As one walks around the room, it is hard to get the students to stop talking about their passions. Whether it was biotechnology or commercial art and graphic design, students from career preparation courses in the FUHSD came together at the Quinlan Center on March 23 for the Career Technical Education Showcase. In addition to the demonstrations by courses like Advanced Multimedia Technology, Culinary Careers, Multimedia Design, International Business and Video Production held around the room, keynote speaker Lou Viveros, CEO of Market Solutions LLC, advised the audience on education paths for children.
Academic Deputy Superintendent of FUSHD, Kate Jamentz, believes the purpose of the event was to bring awareness to many of the unknown courses of the FUHSD.
"Without [these classes] you don't go to school with a purpose, but if you have a taste of careers..you have a direction to the schoolwork that you do."
Jamentz also spoke to the audience about the importance of the skills gained in these types of courses.
"You could take a business class and learn…[the skills] of perseverance, creativity, innovation and then end up not in business at all but you've taken with you those cross skills that are essential."
One of the booths set up was by MVHS Engineering Technology class taught by Mike Mccrystal. As the students showed off the rocket and cannon launchers made in class, they spoke to the importance the class has on their career choice.
Junior Alex Nishiguchi from Cupertino High school also spoke passionately about his Woodworking class while flaunting the boxes, bowls, toy cars, cutting boards, birdhouses, and pen holders made by his fellow students.
"It helped me a lot with my geometry and history," Nishiguchi said. "I found all the equations and went to my geometry teacher and asked how [to] practically apply [them]…and it also helps with my history because we learnt about structural integrity, how the Empire state building was built, and history of bridges."
Across the room, a robot is seen kicking a soccer ball. Lynbrook's robot from 2010's robotics competition moves around the room as an audience stands in awe. Senior Chinmay Jaju from Lynbrook High School describes the added challenge in the competition.
"Now the diabolic twist [to the competition] was you had to be able to hang yourself off a tower," senior Chinmay Jaju from Lynbrook High School said. He explained the high speed collisions, speed bumps, and interesting challenges their robots face at their annual competitions. He also credits his Robotics class for sparking an interest in his proclaimed major of mechanical engineering and aerospace engineering.
Right in the middle of the room, lies a strange rocket-looking car. Fremont High School 2001 alumnus Kaybon Shakeri explains that it is a belly tank racer, created with three other mechanical engineers in a few months, for their senior project at San Fransisco State University.
"We did all manufacturing ourselves, we bent all the tubes, we did all the welding, we did all the machining," Shakeri said. He took the Autoshop class at FHS and now is bringing this car back to his school to work on it with students there to show the connection between engineering and automobiles. Along with this, the Autoshop class is building a Mercedes.
"People feel that it's all nuts and bolts and dirt and grease and [this] is a very tangible way to show people engineering. You need to be hands on to be a good engineer because it reinforces the theory. When you are actually tightening the bolt, you can understand how much torque you are applying. When you are actually putting a wheel on, you can understand alignment. You are also looking at art [because] usually what looks right works right," Shakeri said.

Other demonstrations included:
Administration of Justice, Advanced Multimedia Technologies, Advanced Visual Communication (Studio Art), Automotive Technology, Biotechnology, Business Law, Commercial Art/Graphic Design, Culinary Careers, Drafting, Electronics, Engineering and Robotics, International Business, Journalism, Multimedia Design, Sports Medicine/Athletic Training, Stagecraft /Theater Technology, Technical Writing, TV/Film/Video, and Video Gaming
Correction: The food was provided by LHS and FHS. 3/30/11