Gov Team goes to Washington, D.C.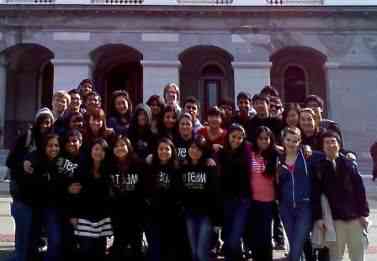 Class takes annual trip to the nation's capital to see government in action
For the third year, Gov Team will be traveling to Washington, D.C. Here are a few highlights of the trip, which will be taking place from March 28 through March 31.

Arlington Cemetery
Upon arriving in Washington, Gov Team's first activity will be to visit Arlington Cemetery, the national cemetery for American war veterans in Arlington, Virginia. The week before, each student chose a fallen soldier in Section 60, resrved for those who served in Operations Iraqi Freedom and Enduring Freedom in Afghanistan, and wrote a letter to their loved ones. Before entering the cemetery, each of the students will purchase a flower to place by the grave along with the letter.
Supreme Court case: Walmart v. Dukes

It is tradition for Gov Team to watch a Supreme Court case. This year, Gov Team will be viewing Walmart v. Dukes, the largestclass-action lawsuit in history. In order to reserve seats in the Supreme Court, the entire team will be on-call to get in line outside the Supreme Court the night before. Two years ago, Gov Team arrived outside the Court at 4 a.m. for Safford Unified School District v. Redding. Last year's team arrived earlier, at 8 p.m. the night before to view McDonald v. Chicago. Gov Team teacher Christopher Chiang, who keeps watch outside the Supreme Court for a growing line, estimates that this year's team will have to arrive between 2 and 8 a.m. depending on the severity of the weather for the 9 a.m. court case. Only 40 seats are allocated for public viewing.
Capitol Hill Presentations
For the past six weeks, Gov Team has been preparing for meetings with Congressional staffers to present the pros and cons of bills in session relating to financial education, international child trafficking and environmental development. The project required teams to write policy memos, schedule meetings with the Congressmen's legislative aides and prepare a two-minute pitch. In between meetings, units plan to watch Congressional hearings.
Red Cross Headquarters
After the Japan disasters, Gov Team decided to focus on Japan relief as their charity instead of their traditional donation to the Paralyzed Veterans of America. In order to raise money to present at the Red Cross Headquarters, Gov Team asked for student donations of a minimum of $1. The team raised $840 in two days. For each student that donated money, a card with their name was placed on the wall outside history teacher Margaret Platt's room, C105.