Boys varsity volleyball defeats Lowell in overtime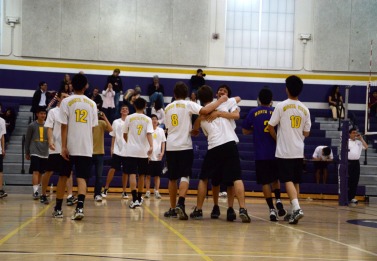 After two wins in the match, the team fought a hard battle for their 31-29 victory in the third game


The fans were on their feet as MVHS scored point 25 in the final game of their match.
However, the game was not over quite yet.
The boys varsity volleyball teams played a solid extended set and both had numerous strong hits, causing the score to shift back and forth between the two. However, a kill from junior Alex Balus gave the Matadors their 3-0 (25-18, 25-23, 31-29) victory over Lowell High School on March 14.
The first game consisted of errors from both teams as they warmed up their hits and digs. The Matadors managed to pull off a 25-18 win before heading into game two.
"We struggled with communication and careless errors, and we had to stay [in the game] longer than we should have," senior Ben Alberts said.
Seniors Ryan Michaelfelder, Zachary Lamm and Alberts led the offense in the second game of the match, sending the ball deep into the corners of the court beyond the reach of the Lowell libero. A kill from Michaelfelder early in the game not only put the Matadors up 3-2 but set a quick pace for the rest of the game.
A save in the back court sent the ball straight toward the net, but Chiu managed to get to the ball in time to set up a one-handed set for senior Jason Hodges, who slammed the ball deep right for a 6-4 lead.
Lamm and Alberts took turns hitting the ball in the front row to further increase the lead.
However, with careless mistakes, the Matadors allowed Lowell to get back into the game and tighten up the score 22-20. With their strong hits, MVHS wrapped up the second game 25-23.
The third game started out close with both teams neck and neck on the score board and maintained tight throughout the entire game. Lowell was on top of their serving game, which allowed them to stay close to the Matadors when MVHS made mistakes.
After a perfect set from Chiu, Balus executed a kill from the right side of the net to place the Matadors in over time 24-24. With both teams scrambling for each and every point, the game picked up rhythm and momentum as each attempted to balance conservative plays with aggressive hits. Then, opening the extended set for MVHS, Balus spiked the ball deep into the far left corner of the court to finish the game 31-29.
Although the team won the match, they were upset with their performance on the court.
"The other team played a lot better that third game, and we continued to make too many hitting and serving errors," coach Paul Chiu said.
MVHS looks forward to minimizing their errors and bringing their intensity when they play one of the top team in the league, Los Gatos High School on March 23.