Senior scores Sharks scholarship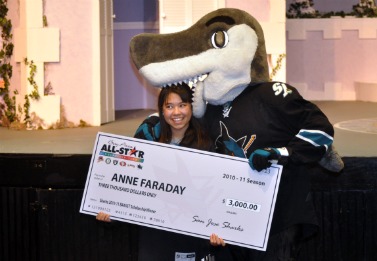 Senior Anne Faraday receives $3000 scholarship from San Jose Sharks for Bay Area All-Star Scholarship Team program
It was the afternoon before the opening night of the spring play, and senior Anne Faraday was talking with the rest of her sixth period Advanced Drama class about the set on stage. Suddenly, the class was interrupted by knocking coming from inside the doors of a building on set. A student hopped onto stage and opened the door—and out jumped Sharkie, the San Jose Sharks ice hockey team mascot.
As part of the Bay Area All-Star Scholarship Team program, the San Jose Sharks selected Faraday as one of six Bay Area seniors to receive a $3000 scholarship for college. The BAASST scholarship recognizes seniors with inspirational leadership qualities, athletic achievement, community involvement and academic success.
Faraday, who was nominated for the scholarship by literature teacher Mikki McMillion and history teacher Vivianna Montoya-Hernandez, has been an active member of the girls water polo team for three years and has been involved with the theatre department all four years of high school, acting in MVSNL twice and in the currently-showing "Pride and Prejudice." Since seventh grade, she has also been a youth leader at her church and for one summer helped senior citizens study for their citizenship tests in Mandarin and English at the Santa Clara Catholic Charities—all while maintaining a 3.8 GPA and battling family and financial troubles.
"[The scholarship] definitely means I'm going to college and makes the reality for me a lot better," Faraday said. "I feel a lot more secure and it means a lot."
Along with the $3000 scholarship, Faraday received a Sharks jersey and tickets to attend a home game of the Oakland Raiders, San Francisco 49ers, Golden State Warriors, Oakland Athletics, San Francisco Giants, and the San Jose Sharks, where she will be recognized in a ceremony along with the five other recipients for her achievements.