New course selection system a result of school system transition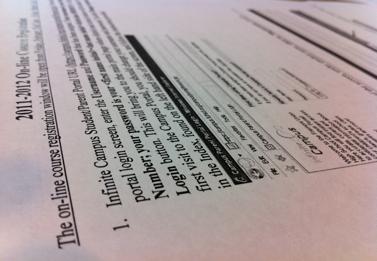 New system replaces scantron process




Last year, the school made a transition from using the Schools Administrative Student Information system provided by Pearson School Systems to using the Infinite Campus system. This transition has introduced many changes to the overall school system, including the new option to hold part of the course selection process online.
Even though holding the course selection process online is similar to what colleges and universities do, the system used by MVHS differs in that schedules and sections are created based on student demand and that there is no "first come, first serve" aspect to course selection. Instead, students may choose to fill out the online form whenever and wherever they would like, making the entire process more accessible, convenient and parent-friendly.
"You can do it anywhere you want," assistant principal Trudy Gross said. "If you wanted to do it in the library, you could. If you want to do it at home with your parents, you can. So my thought was that it might help parents to feel like they're more a part of the process because it could be done together at home."
Using this feature of the Infinite Campus school system has simplified the process of course selection for administration as well, particularly in the area of data entry and schedule creation.
" [Administration] builds [the schedule] in Excel and as you can imagine in Excel, you can't do anything easily by moving and manipulating the schedule," Gross said. "By building it in the computer, I'll be able to see it better and be able to play around with [various arrangements]."
As of now, there are no foreseeable technical problems that may interfere with course selection since the district has already expanded its Internet bandwidth to accommodate the increased traffic. Infinite Campus also provides its own technical support for its programs, making the online system more secure and stable.
"The district is having Infinite Campus come out the first week of May and do a training for all the people in my position in each of our five schools," Gross said. "At that point I'll have all of our numbers of who wants to take what and I will have started to build some of the pieces of [the schedule], like prep periods and room numbers. And then I'll learn how to use Infinite Campus to our advantage to create a schedule that creates the best benefit for students."
The online course selection period will end on March 11 at 7 a.m. The instructions for online course registration can be found here.
{cc-by-nc-nd}