Keeping Senior Night classy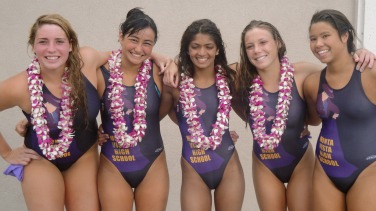 Nicolet Danese
February 11, 2011
Some Senior Night traditions take away from sports


Lewd T-shirts, arrows pointing to butts and spandex runs across the school campus are just a few sights on a typical senior game day for girls' sports. While it is understandable to want attention the day of your senior game, there is a point where an athlete may take the attention-craving mentality a little too far.
After four long years of work, dedication, sweat and tears, your senior game, is of course, something you should be proud of. However, not at the risk of your dignity.
Take volleyball for example. Five seniors who worked countless hours and poured their heart into the sport came to school along with the team, sporting shorts skimpier than some underwear and shirts cut too low.
That's no way to be remembered.
As a senior athlete in a sport that is not known for being conservative, I wasn't surprised when I received a shirt that had the phrase, "Role playin' like it's Friday night" written in bright blue puff paint on the bottom left of my T-shirt, referring to my position as center (or "role player") on the water polo team , mixed in with the Katy Perry Song " T.G.I.F (Last Friday Night)." It was clever and I give the juniors props for the clever pun; however that's not what the sport is about. The past four years have been much more than just a role play.
But, I didn't stand alone. Other water polo seniors had shirts sporting phrases such as, "How does it feel to be blown out of the water?". Field hockey senior shirts sported provocative nicknames and arrows pointing to their bottoms — despite this season's team-chosen theme of "keeping it classy."
There's a difference between flaunting your senior status, and representing your sport and school. MVHS is not a low-cut, inappropriately worded "We kick (down arrow)" school, and neither are field hockey, water polo, volleyball or other sports.
What MVHS is, is a school proud of its alumni and current students-athletes. As a Lady Mat, I am proud not only to represent the class of 2011 or the sport of water polo, but MVHS as a whole. I am proud of my fellow classmates, who have had some fantastic high school athletic careers, but I am not always proud of they way they chose to represent themselves.
Senior games are fun, but there is a point of taking them too far. Stick to posters, announcements, and Facebook events. There is no point in using your bodies to get fans. It's not the reason behind the sport. It's the goals, the spikes, the amazing plays, and the camaraderie that makes a sport worth watching.
So really, seniors. Let's keep it classy this season. And let's leave the half-naked runs to the water polo boys.

Editors' note: The picture has been removed due to the implications that the opinion targeted these individuals.