Annual district staff dodgeball tournament at HHS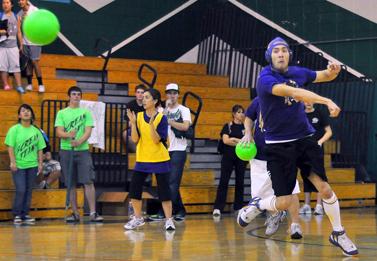 Co-ed and mens teams take first place
All photos by Jackie Barr unless otherwise indicated.
The Intra-District Staff Dodgeball Tournament was held on Jan. 27 at Homestead High School. Each of the five schools in the district tried their hand in the various divisions of competition.. From MVHS, three teams advanced to the final round: mens, womens and co-ed. The mens and co-ed teams both managed to place first and the womens team placed second. Proceeds from ticket sales and halftime refreshments benefited the March of Dimes. Water polo caps were worn by the players in memory of coach and teacher Ron Freeman, a dedicated member of the dodgeball team. Chants such as "For Freeman" erupted from the crowd in the final rounds.
For more in depth coverage, read El Estoque in print on Feb. 3.