Ron Freeman—the legacy lives on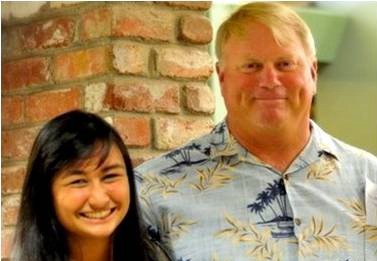 Nicolet Danese
January 25, 2011
El Estoque reporter Nikki Danese's tribute to coach and teacher Ron Freeman
"You dingdongs, get out of my office!" Freshman year, it's 5:30 in the morning on April Fool's Day and current senior Sonika Singh and I—known as the "terror twins" to swim coach Ron Freeman—had baked 219 muffins and placed them all around his office. He walked in and chided us for vandalizing his work place. We promised to clean up our mess in the afternoon, but when we came back after school there were only 18 muffins and one very happy Freeman left.
Freeman had every reason to ignore us. We were annoying, obnoxious, and loud freshmen. We weren't even on his boys team, but he welcomed us to the MVHS aquatics family with his big bear arms. He did that with everyone. I believe that everyone who set foot on the Monta Vista pool deck within the past 29 years and experienced Ron's coaching—whether for four minutes or four years—was impacted in one way or another. On the pool deck at 5:45 in the morning or eight at night, you would always be greeted by his booming voice.
"What's up Guurlies!" (with an emphasis on the "urlies") Freeman would say.
"Not much Freeman, how are you?" we would always reply.

As you grew older, you found comfort in Freeman's scratchy voice. That is, when he hadn't lost it at a water polo game the day before.
The last words I ever said to him were, "You're perfect," as I saw him grabbing all the leftover food he could from Club Day. Freeman was someone I looked up to. He was much more than a teacher and coach at MVHS, Freeman was a mentor—a hero. He knew the meaning behind dedication. He knew what it was like to lack motivation, but he knew exactly how to gain it all back. He knew what it was like to be the best, and he knew exactly how to become even better. And, of course he knew how to rock a straw hat and Ray Bans.
There is a distinct difference between a team and a family, and Freeman was that difference.
"Through all the sweat and tears, smile as you go, " Freeman would remind us.
He made the pool deck not only a place of possibilities but a home. Even after his passing, Freeman is still working his magic, bringing together the MVHS community. He did teach us that teamwork was better than individual success.

However, Freeman also taught us the power of the individual. People made fun of Ronnie, but he didn't care. He kept on doing what he loved. Freeman was the type of guy who, if he saw you at rock bottom, would realize your full potential. When I was hyperventilating on the pool deck from my low blood sugar, Freeman was the one who came running over with a brown bag so I wouldn't pass out. He was the one who fished me out of the pool when I pulled my calf, got ice and massaged the lactic acid out of my leg so I could finish the game. He's saved my life numerous times, not just physically, but mentally. He kept me going. He was the boys' coach, but he came to all our games.
"Nicole," he would say, " you need to dive in deeper, and post up, don't just stop in the middle at the five."
He never got my name quite right.
His advice on the other hand was always golden. Whether I took it or not, it was always valued. Success is measured in how happy you are, socks always had to rest above your ankle and among many others, forget boyfriends—they'd last a week. It's better to keep your heart in the pool.

Until a few days ago, I had never seen the pool deck without Ron Freeman standing on it, nor is it something that I ever want to see again. Any time of the day, Freeman was always there—basketball or khaki shorts, MVHS shirt, crew socks of different lengths, Ray Bans, straw hat and all. He was always someone to talk to. Someone who could tell you a good joke or riddle when you needed one ( Though they didn't always make sense—"Horses eat oats, goats eat oat, little lambs eat ivy!"). Someone who could sympathize with you and someone who could tell you everything exactly how it was.
It goes without saying the MVHS aquatics program will never be the same. No more going to watch Freeman coach and being able to hear "Screamin' Freeman" from across the pool deck, "God bless it boys!" No more, "Ron Freeman Effects" at swim meets (so named because MVHS swim meets never started on time…Freeman had a love-hate relationship with the meet clocks). No more teddy bear hugs. And no more being called a dingdong.

Ronald Freeman, Ron, Ronaldo, Roneriffic, Shamu, Screamin' Freeman—I feel like no article could ever do you justice. No words can be compiled in a way to describe how genuine of a person you really were. You truly were such an amazing, loving and caring guy. I know you're watching down on us Freeman; you're the reason we are so strong in such a sad time. You will be dearly missed. But most definitely
never forgotten. We love you.
Rest in Paradise, big guy.
Read more:
Jan 22: "Coach and teacher Ron Freeman dies"
Jan 24: "Students and staff react to death of beloved coach and teacher, Ron Freeman"