From victim to journalist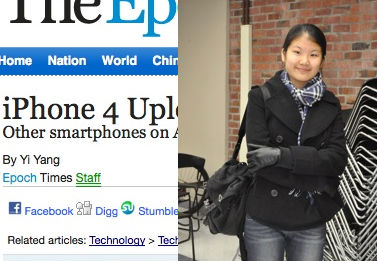 Senior Yi Yang realizes dream of promoting free speech
Shouts of joy, laughter, and appreciation greet senior Yi Yang wherever she goes, as if people are instinctively drawn to this tall, bubbly girl. It's a fortunate sign for someone who aspires to address the masses for a living—and even more so for Yang, who's already living her dream.
When she is not at MVHS, Yang is a journalist at the "The Epoch Times," an international newspaper based in New York published in 70 countries and 33 languages. As a reporter-in-training, Yang writes as a representative of the West Coast, focusing mostly on technology. What led her to journalism, however, is a far cry from the newest gadgets.
Yang's career may have never taken off had she not moved back to Cupertino from China last year, after she and her family suffered years of persecution from the Chinese government. As devout followers of Falun Gong—a religion based on spirituality founded in 1992 in China—Yang's grandparents put their lives on the line for their faith, an act that put Yang's grandmother in jail. Twice.
Such treatment of Falun Gong believers and other minority groups is not uncommon in China, whose government intentionally spreads vicious rumors about any group that threatens its homogeneity. So it was no surprise when Yang was almost expelled from her international high school. Twice.
"If people saw [the followers of Falun Gong], they would run away from [them]," Yang said. "[In China,] there was also live harvesting of organs, people getting arrested and getting sent to labor camps. It was horrifying."
When she arrived in Cupertino at the beginning of her junior year, Yang realized that a career in journalism would allow her to spread the appropriate information to people who did not know the truth. Intrigued by the mysterious process of newspaper publication, Yang contacted her grandmother's friend, an affiliate of "The Epoch Times." Soon, she received an internship offer from the New York headquarters, and she accepted in a heartbeat.
Yang spent a busy but enlightening month in New York, learning the basics and beyond of what it means to be a journalist—what Yang's editor Angela Wang calls "the principles of journalism."
"People told me ["The Epoch Times"] was a paper which spoke the truth, and [nowadays] there is a lot of yellow journalism going on," Yang said. "Even really prestigious newspapers [follow] what people want them to write. And ["The Epoch Times"] is the only newspaper that I know that is not afraid of writing things that are blunt—if [something's] there, they'll write it."
---
"If people saw [the followers of Falun Gong], they would run away from [them]," Yang said. "[In China,] there was also live harvesting of organs, people getting arrested and getting sent to labor camps. It was horrifying."
---
"The Epoch Times," which reports on many China-related issues, is understandably a banned newspaper in China, though much of its audience reads it in Chinese (notably in Taiwan and the United States). Many of the articles address the violations of human rights in China, stories that are quick to be shushed by the Chinese government—but this is what Yang admires about her paper.
"My editors always told me that [human rights] are something we should definitely focus on because human rights are really important, and frankly speaking, we don't have much of [them] in China," Yang said. "Of course, I'm not saying that Chinese newspapers are bad or anything [because they don't report on human rights], but you can see a lot of things that open your eyes in 'The Epoch Times.'"
Yang's passion for journalism is evident to those close to her.
"She [was] dedicated enough to fly all the way to New York for an [internship]," Yang's friend senior Jenny Kwon said. "I think it's pretty admirable that with her school life and college apps she still finds the time to actively participate in companies."
This dedication is one that is shockingly deep for that of a high school student. Yang keeps her work a secret from her parents, who live in China and disapprove of Yang's involvement with journalism. She is also reluctant to return to her home country any time soon, for fear of getting arrested by its government, which has incarcerated critical journalists before.
"It's much more important to work toward a cause like this rather than going back and forth from China to the U.S.," Yang said. "My parents can always come here [to see me]."
These are difficult words to say, but Yang talks with a smile on her face. She is making a difference in the world, helping the world understand the different people that inhabit it. She is a true journalist.
{cc-by-nc-sa}