PHOTO GALLERY: Winter Candyland heats up the dance floor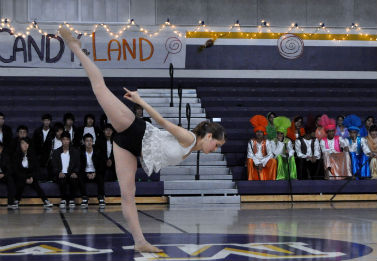 Show includes music and dance performances worthy of the Nutcracker







The dancers at the Winter Candyland Show gave it their all. Of course, a few slip-ups were made, but the audience was supportive and all wound up having a great time.
Here's what you missed:
-Pirouettes dominated the show. When the pirouettes began, the crowd knew to cheer. That and when the Marquesas started in on one of their nationally acclaimed kick routines.
-When the lights turned out on Cupertino High's hip-hop team, GTFO (Get the Funk On), their neon-green Kanye shutter shades went on. The Dance Show had several guest performances, and GTFO was accepted into the mix.
-The Song team, though small, packed a punch with their bordering-on-funny routines and high energy, a nice contrast to the rest of the serious, smoothly operated show.
-Speaking of high energy, the MVHS Bhangra team has been rearing for a comeback ever since last year's Diversity Day shutoff. They started out strong, bringing life to the gym in their glittery attire. Their formations were amazing and they upped the audience energy level 10 notches.
-Jacob Lui and Cathy Ang demonstrated their musical proficiency by singing "A Whole New World", with Cathy on piano, and "I Want You Back" with Jacob Lui on guitar. They had good harmony and the lighthearted songs they chose lifted everyone else up as well.
-The Marquesas picked up momentum with performances like Hot Like Wow, Dog Days Are Over (a performance with an artistic, Lady-Gaga-esque beginning formation), and Be Our Guest. The routine that captured the true essence of the Dance team, though, was California Gurls.

The solos and lyrical performances were the amazing moments, filled with feeling and motion. Their limbs told stories that their facial muscles didn't. Those that came received not only a chance to cheer on the dancers, but a spectacular show as well. Students had initially come to support performers, but it was performances like these that made it worth their while.