FUHSD declines district merger proposal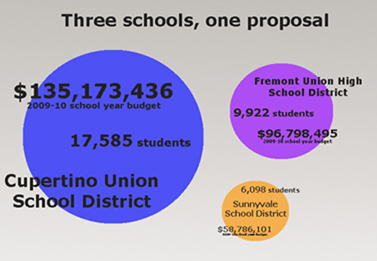 Santa Clara County Grand Civil Jury recommends district unification to boost savings; districts decline
In an effort to address budget cuts, the Santa Clara County Grand Civil Jury recommended consolidation plans for 17 out of 31 county school districts, including the Cupertino Union School District, Sunnyvale School District, and Fremont Union High School District. Based on the findings, an estimated 7 percent in savings, or $51.2 million, was projected if the proposed districts merged into four larger ones.
The proposal echoes one from September 2007 to unite over 50 Sacramento schools to form the Twin Rivers Unified School District—a body of 27,000 students, ranging from preschoolers to adults, in a 120 square mile area.
Yet the merge of TRUSD differs from the potential association of CUSD, SSD, and FUHSD. TRUSD saved by cutting down bus transportation costs—the number of vehicles sent individually for elementary, middle, and high school students was reduced.
In contrast, CUSD, SSD, and FUHSD do not provide such an extensive transportation system across the collective area of 40 square miles. Unlike Twin Rivers, a merger would not increase financial savings.
"I think it was a very short-sighted Grand Jury investigation," FUHSD director of business Jason Crutchfield said. "I would have looked at 10 or 20 districts throughout California… types of districts you would see throughout the state, and then you would get better data and provide better feedback."
Though districts are not required to take immediate action, they must respond to each finding established in proposals by the Grand Civil Jury. The FUHSD financial department collaborated internally with district officials and externally with CUSD, SSD, and the Santa Clara County Office to further research potential increases in revenue as a result of such a consolidation.
On the contrary, mock revenue projections for the suggested unified district indicated an extreme loss in revenue.
As an average daily attendance district, CUSD currently receives $13 million annually from the state to boost its budget up to the state revenue limit. If combined with the basic aid districts FUHSD and SSD, whose above-par funding comes solely from property taxes, then the collective budget would be large enough that this $13 million would be deemed unnecessary.
FUHSD and CUSD would also lose $5 million and $4 million respectively from their existing parcel tax due to legal issues—bringing the total financial loss up to $22 million.
"No real savings, a massive hit to our revenue stream… that was the main crux of the analysis that made us say 'Wow, this is not a good idea,'" Crutchfield said.
Ultimately determined by the FUHSD Board of Trustees, the district officially declined the Grand Civil Jury proposal in September.
"We don't feel [that] our communities like giant, humongous districts," Crutchfield said. "I've never heard anyone say, 'Wow, I love LA Unified [School District] because it's so huge!' You always hear the opposite."
For more information, visit the FUHSD website. Click here for the 2009-2010 Santa Clara County Grand Civil Jury report.
{cc-by-nd}