Sylvia Li: a tennis player's success story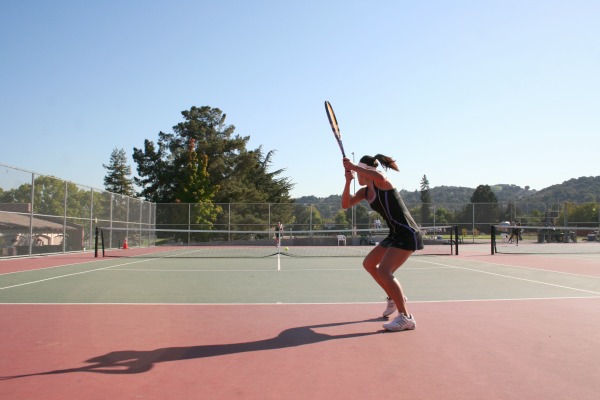 Karishma Mehrotra
November 26, 2010
There are only 52 weekends in a year.
Imagine spending 40 of them sweating on a tennis court.
Imagine if all that sweat, that stress, paid off.
"Now I can look back, and just feel like that I got out of something," senior Sylvia Li said. "This whole thing I focused my life on for four years has finally produced this one thing and that feels good."
This year, Li, who has played tennis since the age of 12, was recruited to Harvard University to play women's tennis. But one can tell by the sound of her voice, it wasn't easy.


"[During] my whole junior year, I had this non-academic, but still, stress on my shoulders. When I went to practice, had to always be on top of myself. You have to work for this something. If I didn't try my hardest, I wouldn't make it. I had this constant pressure," Li said.
She began her freshman year on the varsity tennis team. From number two doubles, she moved up to number one singles, where she feels she gained extra experience and an insight into the team atmosphere. Her life up to this point, however, hasn't been simple to explain.
"I definitely have had days where I cried and sobbed and sweat and everything. When I think back on it, it is this huge shaky, nervous blur for me."
She takes us through the blur, beginning with her first tournament with Ivy league college coaches in the stands in Memphis, Tennessee.
"I just decided, after all this hard work, [it was] at these matches [that] if  I don't do my best, nobody is going to see the hard work I put in before. I [had to] get it together."
Unfortunately, Li explains, she did not play her best. Losing to someone she believes she shouldn't have, it was not the fall, but the process of picking herself up and moving forward that proved to be the most challenging.
"That was the worst day. That tournament definitely hurt me. I thought I was losing my chances. I was so upset. But there was no way I could give up at that point. [I] brought those experiences and retained a sense of confidence in myself. I came back and I trained harder. Rather than having it crush me, I was able to take it and rise to the occasion."

---
"When I think back on it, it is this huge shaky, nervous blur," Li said.

---
Because of that rise and her success in the next tournament, Li was given an official, paid visit to Harvard where she met the diverse Harvard women's tennis team, comprised of girls from England to Australia.

"One thing that I wish could have been different [about the recruitment]," Li said. "was that [when] the coach was watching me play, there [was] already a chance. 'Oh okay maybe I could go to Harvard.' And then being offered a visit 'Oh maybe I really have a chance of really going to Harvard.' And then having the coach [give] a verbal commitment. 'Oh I..am 99% sure I am going to Harvard.' But there is always that 1% percent…The process [was] kind of drawn out."
At the end of the day, Li committed to the university's offer. While reflecting on the heavy amount of work required to reach this goal, the senior insists she would go through the years of struggle again, not just because of the recruitment but because of the lessons she has learned. The devoted athlete reasons that sports were a method of education for her in more ways than simply how to get fit or how to win. She learned efficiency through her balance of studies and tennis and dedication through all the rough times in her journey.
"When you don't want to run, but you have to go run and when you are really nervous, when your arms feel like jelly, when your college decision is on the line if you hit a ball in or not…there are so many ways you can learn that and for me, because I love doing tennis, that was the best way for me to do that."
The blur of her past disappears when Li discusses her excitement for the future—the team, the college experience, and the life as a student-athlete.
"For me, its just a sport I really like to do."
{cc-by-nc-sa}