Color Guard and marching band take first place in annual Fairfield competition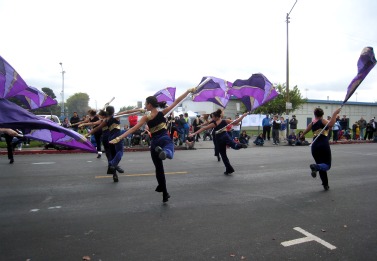 Hazel Hyon
November 10, 2010
Teams win for the first time in six years
For six years, grueling practice came short of propelling the Color Guard to the top. For six years, the team watched the seasons come and go. For six years, the team settled for anything below first place.
On Oct. 30, the hard work paid off—Color Guard won first place in the annual Armijo High School Band Review at Armijo High School in Fairfield, Calif. The team competed in the group for the smallest bands, Division A, with Galt High School, performing a three-minute routine with the marching band. On Nov. 6 at California High School, the band won first place out of six other bands in Divsion 1A, and Color Guard won sweepstakes for auxiliary (Color Guard only) and showmanship.
Color Guard has gone through rigorous training since the beginning of summer, when the team began their practices.
"Every Tuesday, we have three-hour rehearsals, and then on Saturdays we usually have rehearsals unless we have a competition [that day]," co-captain junior Caitlyn Sullivan said.
The team also has practices every other Friday for three hours and holds after-school sectionals on some Thursdays.
Although this regular practicing schedule was necessary to perfect the routines, another significant change this year was the quality of the Marching Band.
"It's not just [Color Guard] that's improved, it's the band that's improved," co-captain junior Wendy Chou said. "Only the people who want to be in Marching Band are [in it]…. Their marching [is] better, their music is better, and our [guard has] gotten better also."
The guard's morale has also risen considerably since winning the Armijo competition, especially for the newcomers on the team.
"I actually thought [Color Guard] would be harder than it really is, but I think we got better as the year kept going," freshman Elena Huang said. "[That] showed in the last competition where we got first place." She attributes the guard's success to the close friendships among the members and unity of the team, in addition to the amount of practice they dedicated to the sport over the past few months.
"Even though we got first place [at Armijo], our [individual score for auxiliary] stayed the same as [in the previous competition, Cupertino Tournament of the Bands]," Huang said. "I hope [we] can get [better]."
Correction (Nov. 20): The Armijo Band Competition was incorrectly named.

{cc-by-sa}