Marijuana and Matadors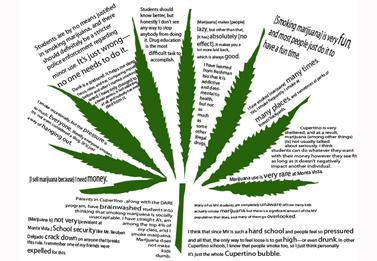 Kevin Tsukii
October 31, 2010
El Estoque investigates the prevalence of marijuana on campus

This article relates to content in the Oct. 20, 2010 El Estoque Print issue.
Sophomore and parents discuss marijuana from El Estoque on Vimeo.
Sophomore Marley Willyoung and her parents, Tom Cruis and Shannon Willyoung, share their thoughts on Proposition 19 with El Estoque. If approved, Proposition 19 would allow government regulation and taxation over the selling of marijuana to those over 21. Video by Karishma Mehrohtra, Jiyoon Park, and Dominique Pieb.

Scale nestled in backpack and weed hidden under the seat of a car, a drug dealer is ready for another day of business. Good business. Four months ago, this was a typical day for this former drug dealer, a junior who spoke to El Estoque on the condition that he remain unnamed.
Proposition 19 is making the anonymously interviewed students question their role in the proposition as illegal users and sellers.
As Californians consider Proposition 19 on the Nov. 2 ballot, which would legalize the sale and use of marijuana in California, questions are being raised as to whether or not drugs are present on campus. But they are—and they have been. It is necessary to further examine the legal, ethical, and safety issues with marijuana. Though many believe that MVHS is a clean campus, marijuana often floats across the minds of many students.
·
"[Marijuana is] pretty damn accessible," the junior said. He does not like to refer to himself as a drug dealer, instead he prefers to call himself a "supplier to friends."
If anyone wanted [marijuana], you could find at least four to five guys who have it on the spot."
The junior started using marijuana his freshman year out of curiosity, but ended up "blazing" almost every day when school started to overwhelm him. He cut class and smoked, but did not sell until a friend—who could not trust the quality of his regular dealer—confronted him for some marijuana. For the junior, dealing started as a favor for close friends who wanted to verify the quality of their marijuana. Word of his favors spread and soon he was approached by strangers—even an eighth grader from Kennedy Middle School.
"Somehow my number got out and then people started calling me," the junior said. "It wasn't intentional."
Unknowingly, the junior immersed himself into what he describes as a flourishing business that has etiquette, specific rates, and loyal clientele. A deal starts with a phone call, which, according to the junior, is harder to log compared to online chats or text messages. His client would state the quantity desired and a time and place is then chosen for the exchange. He would weigh the desired quantity in front of the client, although the buyer would not look at the balance. If buyers do look, it is assumed that they think the dealer will short sell them.
"[Customers] gotta trust 'em," the junior said.
Prices often depend on who the client is. The junior charged underclassmen $5-10 extra while he allegedly forfeited his profit from sales when selling to friends. In the junior's opinion a client's trust in a dealer comes at a higher price than the profit that can be made by dispensing tainted marijuana. Bad marijuana, either laced with phencyclidine or other substances such as cocaine, though rare, could cost a life.
"Some [dealers] just sell [bad weed]," the junior said. "When I used to buy, I would always know who I'm buying from, 'cause you don't want tainted stuff. Some people used to spray stuff on it—crystal something—it made it smell better and more fresh, when it was really old."
The junior said that there is no way for first time users to discern tainted marijuana from good marijuana. Experienced users may be able to discern the contaminants and other substances that are added, but dealers often sell laced marijuana to first time users who would not know the difference. A common method dealers use to mask bad marijuana is by baking it into brownies.
The dealer also places trust in his or her client to not "snitch" or divulge his name if they are caught with the substance.
"If it's a person who is pretty risky—if they get caught often—or if you think they'd snitch on you, you'd say no right away," the junior said. "It's all about if you know them, I don't sell it to new people, especially underclassmen…I have to be careful with underclassmen, if they get caught they might say my name."
The junior reduced the risk by selling conservatively to strangers and liberally to friends, creating a social circle of users who often smoke together and pressure others to join.
"At MVHS, I think [there is] a lot of influence from friends," the junior said. "Once one person starts it another person starts it, and that's what is happening right now."
The junior had good reason to be afraid of "snitchers." Though a dealer may be able to get away with selling to close friends, Assistant Principal Brad Metheany makes sure that even the slightest rumors about drug dealings are investigated.
"If we know about [any drug dealing], we will get involved right away. We don't search randomly, unless someone tells us," said Metheany. "If you're a drug dealer on campus and you get caught, you're going to be expelled. No excuses."
Despite the determined efforts to keep MVHS clean, rumors rarely filter through to administration as users and sellers are reluctant to share information with outsiders.
"It's hard to get caught if you're dealing drugs," said a current marijuana user, a senior who wished to remain anonymous. "Don't broadcast to the people that aren't concerned."
Students who inform administration of known drug dealers are not the only whistle-blowers. Metheany looks into reports from teachers who are well aware of the smell and the symptoms of drug use. Once a teacher reports a student, administration will search him and call law enforcement if marijuana or a scale is found.
Metheany noted that MVHS is a safe campus; however, he acknowledged that in a school of 2,600 people, there will be a certain percentage of people under the influence of marijuana.
"Not every high school is safe from social pressure," Metheany said. "All we want as a high school is for students to leave with certain skills to learn to be their own person and take control of themselves."
Though the junior was able to avoid administration, he was caught by his parents. His parents would rarely let him see friends, forbade sleepovers, and forced him to study. In retrospect, the junior regrets smoking marijuana and more so selling it.
"Weed is pretty bad; [it] is a gateway drug," the junior said. "You feel terrible [selling it]."
{cc-by-nc-sa}