Bishop runs to inspire team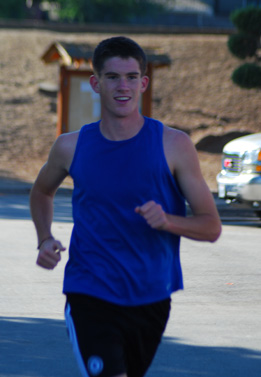 Fastest runner at school shares aspirations
Junior Kevin Bishop is the fastest distance runner at MVHS.
"[Running] is one of those things that I've always known," said Bishop. Bishop has been running track and cross country since middle school, where he broke the Kennedy Middle School seventh grade record for the mile. As a seventh grader Bishop ran multiple sub-five-minute miles and continued to improve in his eighth grade year.
But that was only the very beginning. Now, four years later, Bishop was crowned winner of the Division I Championship at the Stanford Invitational that took place Sept. 25, having beaten 213 other runners with a winning time of 15 minutes and 28.6 seconds in a hilly 3.1-mile-long race. Success at the Stanford tournament led to media coverage from the San Jose Mercury News—Bishop was featured as Athlete of the Week in a the Sept. 28 issue. He's had multiple encounters with peers at school and other strangers who have claimed they've seen his picture in the sports section of the San Jose Mercury News.
"When I think about my running career," Bishop said, "the happiness I get from my successes is infinitely more motivating than failure is discouraging." It's probably because Bishop is entirely an internally motivated athlete. That drive doesn't come from his parents or friends, but from himself. With such commitment to the sport that he loves, it's no surprise that Bishop is one of MVHS' top athletes.
"[Bishop] is going to be successful no matter where he goes or where he runs," said Jerry Noble, the cross country coach at MVHS. Although Noble has only worked with Bishop for one year, he immediately took notice of Bishop's outstanding talents. Bishop cross-trains with swimming, which allows him to take stress off his body and rest injuries. Noble considers his varried workout regiment one of Bishop's greatest advantages.
Noble, who stresses "team and family" as a coach, is also building trust with Bishop. "I like to use the analogy: Trust is earned one drop at a time," says Noble. "We're close to having a good relationship. We trust each other, and that will improve as time goes on."
"He's really good," said junior and team captain Neil Fernandes. "He doesn't usually run with us, but we see him every day heading out, and he comes back all sweaty."
At practices Bishop helps his teammates. He provides knowledge on courses where he's run before and gives tips on technique and strategy for meets. Although his records and times set him apart, he's really no different than the motley crew that meets by the bleachers in front of the baseball diamond every day after school.
Even though Bishop's not a captain, he's taken on a leadership role within the team and it's important for him to set a good example for his peers. Before meets, he sometimes gives talks to the freshmen, but also by simply being on the track and working hard Bishop is a role model for his teammates.
After high school, Bishop hopes to attend either Stanford University or University of Oregon, where runner Steve Prefontaine went to school and where Nike was founded. "This is how I'm getting to college," Bishop says. "I'm betting it all on this." Without a doubt, running is going to be a big part of Bishop's future. In fact, he's already received a letter from coaches at New York University expressing interest in possibly having him go to school there.
That's where the trust comes into play. Noble, who was a NCAA champion in the decathlon, knows what it takes to reach that level of competition in the track world. Helping Bishop get there is one of his coaching goals for the next two years. But Noble also wants to make sure that Bishop maintains respect for the sport of and his fellow racers.
"It's hard to do when you're young because you have the whole world in front of you. I'd like to see Kevin compete with integrity and class," Noble said. "What I want Kevin to do is whenever he battles, to turn around or go to the person who has beat him, shake their hand, and say, 'Thank you for giving me the race of my life.'"