Speech and Debate showcases talent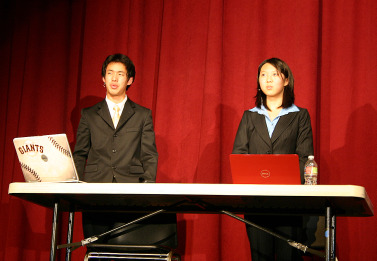 Speech and Debate Showcase flaunts different Speech and Debate events
The Speech and Debate team displayed its talent at the Speech and Debate Showcase through a series of performances, ranging from hilarious and wacky speeches, to debates about serious issues.
The show began with an "original oratory" performance by senior Natalie Chan, which was followed by an "oratorical interpretation" by junior Sara Yang. The original oratory event consists of speeches written by the performer, while the oratorical interpretation events are based on another author's work.
The "Public Forum debate" pitted seniors Jeffrey Dong and Kevin Liang against sophomores Arnon Karnkaeng and Ted Yuan, where they argued over the pros and cons of lobbying. Tensions flared throughout the debate as each team threw out their best evidence to strengthen their argument. It was apparent Yuan knew the topic exceptionally well, with his excellent refutations to almost every single argument the seniors threw at them. In the end, the sophomores won the clash of words based on the votes of the audience.
A "duo interpretation" titled "Frank Einstein" by senior Yeshar Hadi and junior Adhiraj Watave created a lighter atmosphere. Hadi and Watave, from start to finish, had the audience laughing hysterically with their different personalities. The nature of the event had them acting as several different characters, ranging from a lunatic scientist to a childish and clueless monster.
Senior Ratnalekha Viswanadham then took the stage, ready to perform an "impromptu speech". The audience was asked topics for her speech and it came down to Pokemon, trash cans or tolerance. In the end, she decided to take the topic of tolerance. She sat on a stool off the side of stage for two minutes and when it came time to present, she put down her writing pad, took a deep breath, and started her speech. After she finished, the audience was in utter disbelief at the fact that she created something that exceptional in just two minutes.
Sophomore Pooja Pandey wrapped up a show of hilarious and fascinating events with a comedic and slightly inappropriate "humorous interpretation" called "Freak." Each character portrayed was different and funny in their own way. Pandey's performance was the story of her fake family, ranging from a cousin who enjoyed playing with guns to a grandma that wanted to be taken away by Satan. She mimicked each one through different Mexican accents, expressions and wacky actions. Pandey ended a night filled with spectacular performances with the iconic line, "Th-th-th-that's all folks".
{cc-by-nd}