Varsity boys basketball coach soon to be decided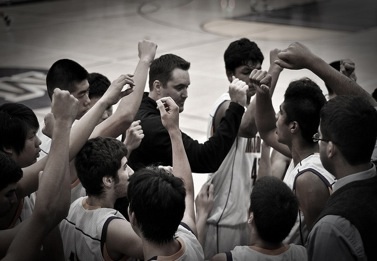 Administration hopes to continue varsity boys basketball's recent success with a new head coach
In a move that surprised much of the MVHS community, varsity boys basketball coach Matt Tait unexpectedly stepped down from his position late last year. Though the exact reason of the departure was not specified, the turn of events has left the team in a state of confusion and miscommunication. The administration hopes to resolve the issue by a hiring a coach some time this week.
After Tait's departure, the basketball team's summer league finished at a disappointing record of 2-12. With the lack of a head coach, the varsity team was disorganized and did not play to their full potential.
"The uncertainty of who was going to coach the team…probably led to some of the struggles with the varsity group," assistant coach Calvin Wong said.
Another factor that contributed to losses for the team was the lack of varsity team experience. Of the 10 or so players on the summer league team, only three had extensive playing time with the team last year. One of the biggest losses is of forward Krish Rangarajan, last season's leading scorer and league MVP, who graduated in June.
In light of the unfortunate situation, the administration has started the interviewing process for possible head coach candidates.
"We want to find a coach that [the players] are going to look up to and want to play for," vice principal Michael Hicks said. "They have to like working with kids. That's the number one thing."
Maintaining student interest and participation in the sport will be critical in order to build success in the program.
"We've had a pretty good program the last few years. And we get a bunch of the students to come to the games," Hicks said. "We want to have a winning team, [but] it's not the most important thing."
The new head coach will hopefully bring future success to the program and bring a winning mentality. Though there are obstacles to success such as the lack of experience, the administration hopes that strong team cohesion and clever strategy will be enough to bring on the W's.
Despite the absence of a head coach, the basketball program is off to a decent start. An open gym on September 7th attracted considerable interest from many students, and the JV team did perform well in its summer league.
There are almost two months left before the season starts, which means there is plenty of time to develop team chemistry between players and the new coach.