Volleyball preps for season with Reno tournament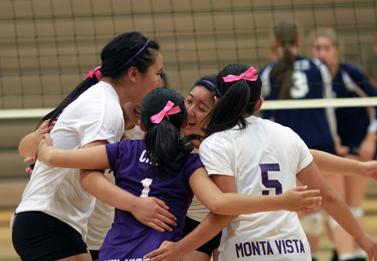 Weekend tournament builds team chemistry for varsity girls volleyball
Warming up with the first games of the season, the varsity girls volleyball team served their way through the Sept. 3 and 4 High Sierra Invitational tournament in Reno, Nevada with a 5-3 record and 14th place out of 36 teams.
Rather than two days of strict competitive game-time, the tournament served as a weekend of team-bonding to kick-off the girls' upcoming season.
"The first night, we don't actually play volleyball," co-captain senior Alexandra Chiu said. "We get there, we have dinner, we hang out, take pictures, make memories, and then the next day we play."
After three games of pool play on the first day, the girls secured third place in their pool with a record of 1-2. The next three games of bracket play on the following day matched the girls against similarly-placed teams. After winning all three, they moved on to the second-highest, King division for the penultimate game.
This semi-final round was an intense face-off between MVHS and Pleasant Valley High School—ending with an emotional MVHS victory.
"Everyone was just so pumped up when we won," Chiu said. "Everyone was just jumping up and down, people couldn't stop talking about… how they were like getting off [the bench] at every point we scored."
The win sent the team on to a final game against Reno High School, where the girls took a defeat and 14th place in the tournament.
Despite losses, Chiu and coach Colin Anderson consider the tournament a success in multiple respects.

"[The tournament] gives us a chance to see what we have and what we can do," Anderson said. "You practice, you have scrimmages, then you get out there. And I think the girls were impressed when they realized how good they are. I think that they've been underestimating their skills."
According to Anderson, the tournament served as a proper introduction to the season.
The team is stepping up from the El Camino league to the De Anza league this season with an inflated number of 16 rather than 12 players. With the inevitable adaptations to these changes, this set of eight pre-season games has helped the girls jump start team chemistry, both on and off the court.
The next varsity girls volleyball game will be a pre-season match on Sept. 21 against Los Gatos High School.
{cc-by-nd}