Change in club policy restricts fraction of club population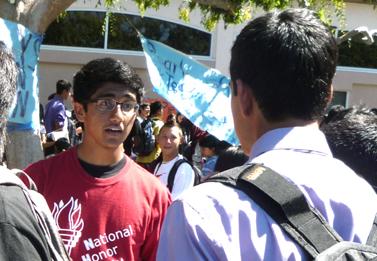 In-class promotions are now restricted to clubs related to class curriculum
An alarming increase in the number of in-class club promotions has prompted administration and Club commission to enact a new club policy. Announced on Sept. 2 at Club Council, clubs are now banned from advocating student membership in classrooms unless the purpose relates to the class curriculum.
The guidelines are designed to rectify a problem that branches off one main issue—the misuse of instructional time.
"The thing is, is that we don't want a five-minute presentation to turn into a 20-minute Q-and-A session where the teachers… don't have time to teach anything," Club commissioner senior Brandon Tran said.
The solution translates to clubs like FBLA, DECA, Drama Club and Spanish Honor Society being allowed to promote in Business, Drama and Spanish classes respectively, while others like Interact and Baking Club are not.
A small exception to the rule maintains that club members are still allowed to make casual, spontaneous announcements within their scheduled classes to spread word of specific events.
Another clause of the new policy addresses the potential pressure on teachers to allow clubs to promote during class. Clubs are now required to abide by an "opt-in" method rather than an "opt-out" one. Dean of Students Denae Moore noted that club officers would often e-mail teachers to announce their plans of classroom visits, rather than to ask permission to do so. This old practice has been replaced with the converse; teachers must now fully approve or offer the opportunity.
In-class promotions must still be passed through Leadership Council; if clubs either break promotional protocol or do not submit the proper motion, they will receive a strike from Club commission.
Club commission speculates that large community service clubs like Octagon will probably be most affected by the legislative change. Despite the varying levels of consequences for different clubs, Club commissioners Tran and junior Ryan Chui agree and support the new arrangement, maintaining that alternative promotional methods can get the job done.
"There are these clubs who have like such a huge member base that they want to keep adding to it, and… [Club] Promo Day is just once a semester," Tran said. "But we really think that [Club] Promo Day is enough, like that's what [it] is for."
According to Octagon co-president junior Neil Fernandes, the club has been visiting classrooms for approximately seven to eight years and was most likely one of the first to employ the promotional technique. With the practice perfected, officers visit freshman literature classrooms during the week of their annual Friday Pie-toss to promote both the event and the club. Such methods typically result in a large freshman following, which could easily decrease with the new changes.
"We've been doing [in-class promotions] so long that it's going to be a big blow to us," Fernandes said. "But we have to do what we have to do, right?"