Back in Action Week returns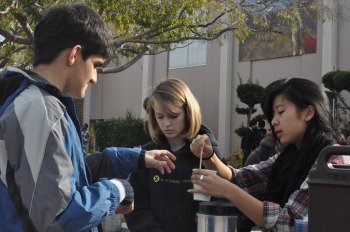 Kriti Garg
January 11, 2010
Student Life Commission helps students get a jump-start on the new year
Student Life Commission helped students ease into second semester with the return of Back in Action Week, previously called Relax Week. Back in Action Week was Jan. 4-8.
Monday's Sports Day featured relay races, tennis-volleyball tournaments and hula hoop competitions.
For Tuesday's Relax Day, hand massages, manicures, hot cocoa and tea were offered in the Rally Court during lunch.
Music Day, on Wednesday, was a promotional event for Battle of the Bands, a fundraiser organized by Community Leadership's Youth Commission. The groups Brown Sound, Passion & Passionate, and Vacant Anthem each performed short pieces from their repertoire. Battle of the Bands took place at 6:30 p.m. in the auditorium on Jan. 8.
Thursday, Kiddie Day, featured lunchtime activities such as bubble blowing, two-square and finger-painting. The day also included an assembly featuring guest speaker Keith Hawkins. Student Life Commission also initiated talks with administration to arrange a block schedule week, instead of 7-period days that usually took place during the first week of second semester
The end of the week brought the return of the highly popular Carnival Day. Initially, rain was imminent, but the weather proved to be no deterrent to the fun. Carnival games took place in the Rally Court, where there was a professional balloon artist, free popcorn and a doughnut-eating game.
"Even though it was sprinkling, people were still having fun, waiting in line for cotton candy and the balloon creator," Student Life Commissioner senior Sydney Fong said.
Besides Back in Action Week, this year the Student Life Commission has organized MVHS's first Super Smash Bros tournament and Blue Pearl. Behind these fresh new events is an all new commission, with no returning Student Life commissioners from last year.

"I think it's a little bit more hectic, just because we've never done it before… it's harder to get started with things," Student Life Commission lead senior Maayan Yakir said. "In a way, it's good to have new people, because the events weren't exactly like they were last year, and we kind of put a new touch on it."

Behind-the-scenes glitches inevitably did]arise. The commission had hired two professional masseuses for Relax Day, but due to a scheduling error, the masseuses canceled on short notice. However, the commission stays confident.
"We manage to pull it together," Fong said. "No matter what situation there is, we still find a way."
Fong and Yakir estimate that each commission member spent 20 to 25 hours over the December break planning and organizing Back in Action Week, totaling 100 to 125 hours. The commission – comprised of Yakir, Fong, senior Andrew Stewart, sophomore Neil Fernandes and sophomore Steffanie Sum – had a budget of $4000 for the week, including hiring the motivational speaker and balloon artist, but did not spend all of it.
Next up for Student Life are intramural sports games and music days.