Tough work pays off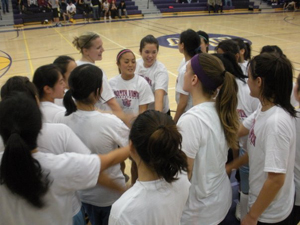 Varsity girl's basketball team defeated alumni players 44-19

The alumni were eager to return home to MVHS to play the varsity girl's basketball team on Nov. 27, but they were defeated with a final score of 44-19.
Senior Amy Lin credited the win to Coach Sara Borelli's tough conditioning.
"We run three times a week, so that makes us faster on the court. We started practicing double days on Saturdays, and we have to run our mile under 7:30 in order to get our jerseys. So we're all in really good condition," Lin said.
Their hard work showed its true colors as soon as they found their rhythm early on in the game. The varsity team managed to steal the first half 20-7 due to great rebounds and individual plays from seniors Michelle Pao and Kelli Sum.
Lin began the second half with a three pointer, followed by another three from Sum. The team continued to score, but also maintained an effective defensive system that left the alumni with absolutely no hope of scoring. Pao's speed on the court also contributed a critical role to the team, often stealing possession of the ball from alumni players and scoring. After three consecutive baskets from senior Victoria Lee that gave the varsity team six points, they maintained a solid lead. Though the alumni attempted to come back towards the end of the game, the varsity girl's basketball team won 44-19.
"After this game, we're 3-0 in our preseason record. We're starting off good this year," Lee said.
Their first league game is against Mountain View High School on Jan. 5.