Battling beyond the prize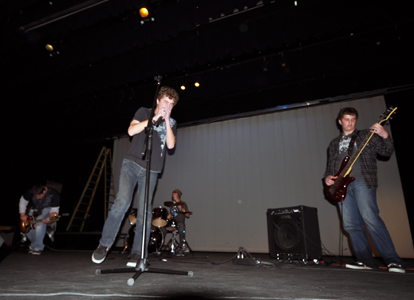 14 musical acts contested for a spot in this year's Battle of the Bands, hosted by Youth Commission
For many, the incentive to audition for this year's Battle of the Bands extended beyond the $200 winning prize. In many cases, bands auditioned simply to benefit from the experience.
Community Leadership's Youth Commission held auditions for this year's Battle of the Bands in the auditorium after school on Nov. 20. Between 4 – 7:30 p.m., 14 acts took the stage in 15-minute intervals to earn a spot in the final performance. The commission plans to select eight bands for the show, as well as one for an intermission act.
Some groups have a history as a band, while others pulled together immediately prior to the auditions. Whatever the case, an underlying passion for music fueled many performances.
"We always jammed together but we prepared for this event like yesterday," junior Ben Lee said. "[We] thought it'd be a good get-together thing to just play together."

Lee performed a cover of "Use Somebody" by Kings of Leon alongside junior James Lee and senior Tim Hwang.
For the members of the group Anomaly, "the whole idea [of making a band] was formed a long, long, long time ago," sophomore drummer Brandon Hayes said. "We finally got together last year."
Since then, Hayes and fellow sophomores Jake Lee, Jeremy Irvin and Max Sorg have performed six gigs in their ten-month time together, including Battle of the Bands 2009.
Their main motivation? "We like to perform," lead singer Irvin said.

Sophomores Aaron Ho and Libby Cha could be found rehearsing their cover of "Knock You Down" by Keri Hilson, Kanye West, and Ne-Yo hours prior to their 6:45 p.m. time slot. With approximately a day's worth of practice, the two decided to participate for the sake of fun and a good experience. C

ha plans to take her musical interests to new heights in the future.
"Not like superstar status… just something on the side," Cha said. "Music is a passion, it's not a career."
Out of the many passionate groups, nine will be selected for the event within the next week.
Battle of the Bands is scheduled for Jan. 8, with tickets sold for $10 the week of. Proceeds for the event will be donated to Families First, a non-profit organization dedicated to helping struggling families and children.