Fender-bender with Water Polo Cars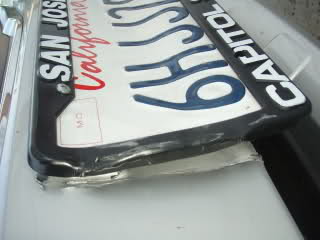 Six members of the ten-member varsity girls water polo team found themselves in a car accident on the way to Wilcox High School
On the way to Wilcox High School for a game on Oct. 8, over half of girls Varsity Water Polo team found themselves stuck in a fender-bender.


Sophomores Christina Emezca and Kelly Darmawan and juniors Sonika Singh and Gabrielle Antonova were in sophomore Stacey Urauchi's car driven by Urauchi's dad, followed by junior Nikki Danese, who just received her license last month.
The crash came about when the car in front of Urauchi's car stopped abruptly, leaving almost no time for a reaction. Though Urauchi's dad was able to avoid bumping forward, Danese's car smashed into Urauchi's back, propelling it forward and hitting the car in front.

"It was like a three way ping-pong so we went forward, backward, forward," Singh said.

After the initial shock wore off, the team searched for damages.
"I hit a car with five of my best friends [in it] so I was less concerned about how I was and my car, but more like,' I have just injured half of my team'," Danese said.
Danese's knees, neck and head were bruised. Several girls bruised their shoulders against the sides of the car. Luckily, all players were wearing their seat belts, which prevented them from any worse injuries. All injuries were minor enough for all the girls to play their game.
After finding the lady they hit covered in her Pepsi and her car's back bumper dented, the girls looked at their own cars and found Danese's car with a crushed front bumper, cracked dashboard from her knees smashing into it and a dented license plate. Urauchi's car had a four inch cut to its front bumper. No one decided to file charges and will negotiate the insurance issues among themselves.
The team did not miss the game because the referees at Wilcox High School were two hours late. In retrospection, the girls later joked about the incident despite their bruises.

"I think getting in a car crash [was] a great team bonding," Urauchi said.
Meanwhile, the team is looking forward to their next game and hoping that their share of accidents will end here.